Moustakas, Turner used teamwork to win All-Star Final Vote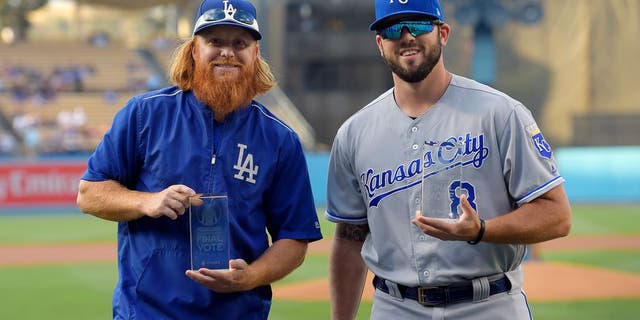 NEWYou can now listen to Fox News articles!
LOS ANGELES -- Mike Moustakas and Justin Turner used some cross-league teamwork to book their trips to Miami.
The third basemen each earned trips to next Tuesday's All-Star Game by way of the final Fan Vote, each beating out four other finalists Thursday from their respective leagues.
Turner, the red-headed third baseman for the Los Angeles Dodgers, led the final balloting with 20.8 million votes, and he encouraged his supporters on Twitter to also support Moustakas -- a slugging third baseman with the Kansas City Royals -- using the hashtag #VoteMoose. Moustakas returned the favor while leading the American League with 15.6 million votes.
"It's really cool that we were able to partner with these guys and make this all happen," Moustakas said Friday before the Royals played the NL West-leading Dodgers.
The two players embraced behind home plate before the game when they picked up glass trophies to commemorate their final vote victories. It's the second time Moustakas has won the final vote.
Royals manager Ned Yost said the voting showed the strength of each team's fan base.
"Even though LA's a bigger market, it's pretty amazing the support we get in Kansas City for our players," he said. "I looked at the voting map yesterday and there were votes for Moose all over the country."
Moustakas has hit a career-high 25 home runs and was already set to participate in his first Home Run Derby on Monday night.
Turner is batting .380 with 33 RBIs and eight homers. He got the night off Friday.
"Thank you to everyone who spent the last 4 days literally punching my ticket to Miami," Turner tweeted. "I'll never be able to put into words how (grateful) I am."