Mourinho: Chelsea bench ban not permanent for Carneiro and Fearn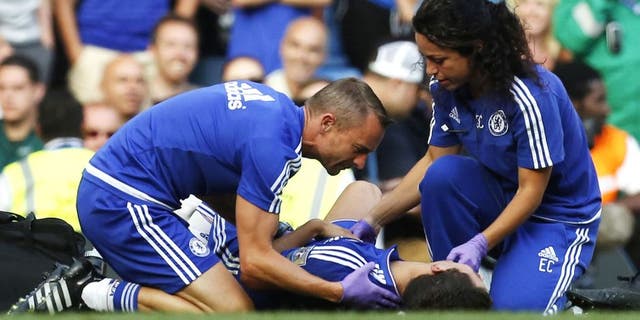 Chelsea club doctor Eva Carneiro may return to the bench in future despite the furore of her banishment for Sunday's match with Manchester City, manager Jose Mourinho said Friday.
The Chelsea boss has been heavily criticised for his reaction towards Carneiro and head physiotherapist Jon Fearn entering the field of play to treat Eden Hazard in the Blues' 2-2 draw with Swansea last weekend.
The Portuguese told the media afterwards that their "impulsive and naive" decision showed they did not "understand the game" with Carneiro's role at Chelsea now set to change significantly as a result.
But, after confirming both Carneiro and Fearn would be absent from their usual roles on the bench at the Etihad Stadium on Sunday, Mourinho did not rule out their future return.
"Jon Fearn and Dr Carneiro will not be on the bench," Mourinho confirmed at his pre-match press conference.
"That does not mean that Sunday is for the rest of the season or their careers - they will not be on the bench on Sunday, that is clear, that is my responsibility."
Mourinho has come in for scrutiny following the controversy, while the Premier League Doctors' Group expressed its concern over the ongoing situation and said a reduction in Carneiro's role would be "unjust in the extreme".
But the Portuguese defended his relationship with Chelsea's medical staff and said that they are a team that should be allowed to have disagreements.
He said: "First of all I want to say I have a fantastic medical department led by Dr Paco Biosca, I have a good relationship with them.
"With more than a dozen professionals between doctors, physio, masseurs - I have a very good relationship with them.
"They tell me all the time that they were never praised as much as they were by me in the last two years.
"Normally when things go well managers keep it to themselves, I have praised them lots of times in the last couple of years and they don't forget that.
"They also told me that we have had disagreements during that period, we need disagreements to improve. We work together and we improve together, That is the way we do things. It is a relationship that is open to disagreement."
Carneiro joined Chelsea in February 2009, having previously worked at the British Olympic Medical Institute and with England Women's Football and UK Athletics.
The doctor thanked people for their support on Sunday, posting on Facebook: "I would like to thank the general public for their overwhelming support. Really very much appreciated."
The post has attracted 40,000 likes to date and reports suggest Carneiro is seeking legal advice.
As expected, she and Fearn will not be part of Mourinho's dugout team for the game at City, but he played down the importance of which specific staff members are selected to operate from the bench.
"I have to say that for some people the bench is very important," he added.
"For other people it is not important. For other people the most important thing is not what people think you do, it is what you do. The bench is my responsibility and when you ask me (who will be on the bench), obviously it is my decision, no-one else's.
"Every week I face the decision about the bench. With 25 players, if my mathematics is not bad, 11 on the pitch, seven on the bench, seven of them are not even on the bench. I have to choose.
"I have seven assistants and only four can go on the bench, I have to choose three of them (to miss out). We have four kit men, only one goes on the bench, three stay out. Medical department, only two go on the bench and we have more than a dozen.
"Important to be on the bench? For some. For others it is more important what they do. Their contribution. What they do behind the scenes and the good of the team."
Mourinho was keen to swiftly move on to other matters but did refute any claims that the situation will hang over his players going into the game.
"If you want to talk to me about football I'm here, if you want to talk to me about other things I'm not here," he said.
"If somebody thinks that a disagreement between two members of the medical staff and the manager can affect the week, it is somebody that does not have a clue what football is and what preparation for matches is."