Mother knows best: Brazilian soccer club hires moms to stop violence between rival fans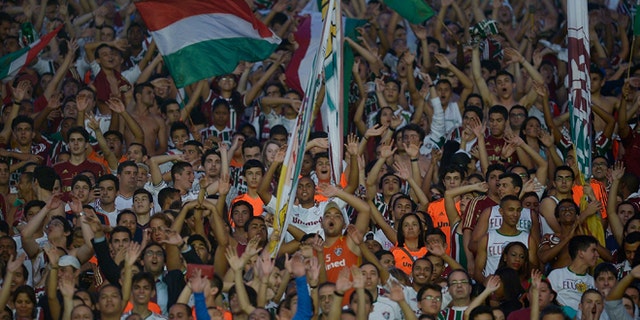 In an attempt to curb fights, hooliganism or something worse during soccer matches, one Brazilian club has gotten creative and decided that the best way to prevent any misbehavior off the pitch is with a mother's touch.
Ahead of the "Clássico dos Clássicos," a rivalry match with neighboring Náutico, Sport Club do Recife decided to hire fans' mothers as security guards in an attempt to curb violence at Sunday's game.
The so-called "Seguranca Mae" – Portuguese for "Security Moms" – were trained just like regular security guards and given bright orange vests to wear while patrolling the pitch. The 30 mothers also had images of them walking around the stadium projected throughout the game on the field's jumbotron so unruly fans could see that their mother was watching them.
"At the end of the day, no one wants to fight in front of a mother, especially his own," Aricio Fortes of the public relations company Ogilvy, who came up with the idea, told the Sydney Morning Herald. "The idea was to make the most fanatical supporters aware and help in some way to bring peace to stadiums."
The idea apparently worked. Sport Club do Recife won 1-0 and no one was arrested during the match.
Recife has been a hotbed of violence at soccer stadiums, with the U.S. State Department saying the city in the state of Pernambuco has the highest assault levels in the country.
Gangs from the rival favelas often form groups known as torcidas organizadas and the bitter rivalries between clubs like Náutico, Sport Club do Recife and Gremio have led to riots and even death.
Between 1988 and 2013, there were 234 soccer-related deaths in Brazil, including 30 in 2013.
In eastern Cairo on Sunday, at least 19 people were killed when police fired tear gas into a crowd of fans waiting in a fenced, narrow corridor to try to enter a soccer stadium. Many of the dead suffocated or were crushed in the melee. It was the deadliest act of soccer-related violence in Egypt since 2012.
Includes reporting by The Associated Press.