Morgan's header lifts US women's soccer over Canada and into finals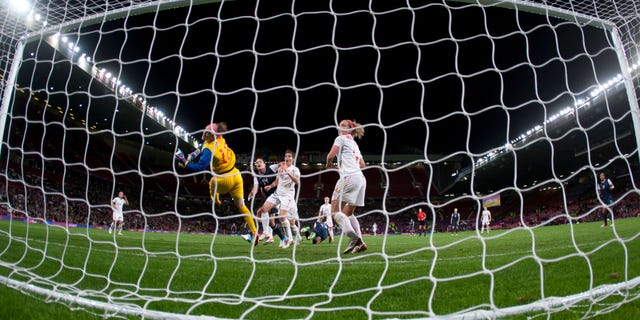 MANCHESTER – Coach John Herdman complained of "bizarre" decisions by the referee in Canada's loss to the United States on Monday and said the Americans got lucky to beat his team and reach the women's Olympic final.
Herdman said "it felt like it was America and the referee against" his team in the 4-3 extra-time defeat at the Old Trafford in Manchester.
"The ref will have to sleep in bed tonight after watching the replays," he said. "She's got that to live with that. We'll move on from this, I wonder if she'll be able to."
He added: "You feel that it was taken from you. If the United States were honest, they'd know they got lucky tonight, in many ways, and that's what hurts the most."
Herdman was upset with referee Christiana Pedersen of Norway especially for a decisive penalty awarded to the United States in the 80th minute, which allowed the Americans to equalize and send the match into extra time.
"For some reason tonight there's a hand ball missed in one end of the box and then a hand ball given in the other end for something that looked exactly the same," Herdman said. "Go and watch the replay of that decision."
He said he didn't think it was a hand ball and didn't understand why Pedersen awarded an indirect free kick against goalkeeper Erin McLeod for holding the ball inside the area for more than six seconds, a foul that led to the hand ball.
"It wasn't like she was trying to slow the game down, like you see when goalkeepers are really cheating," Herdman said. "She wasn't doing that. She was waiting for our fullback to get tucked in."
Even U.S. coach Pia Sundhage said she was surprised by the six-second call.
"I haven't seen that before," she said.
McLeod said one of the lineswoman told players at the start of the second half not to delay the play too much but it didn't feel "like a real warning."
She said the referee said she held the ball for 10 seconds.
"She obviously counted the time when I was on the ground with the ball. Once I got to my feet I calculate I only had the ball for five seconds," McLeod said. "We feel like we got robbed in this game. The referee was very one-sided. She has to do what she has to do and believe in her decisions."
Herdman, who is British, said the loss was heartbreaking because his players performed extremely well against the Americans and felt they had a chance to win. Canada hasn't beaten the U.S. in 27 matches.
"They got kicked, they got up. They got kicked back down, they got up," he said. "That's what bites you, to think what more could you have asked of them or what more could you have done."
Canada can still secure its first top-three finish at an Olympics or World Cup if it beats France in the bronze-medal match.
Christine Sinclair, who scored Canada's three goals on Monday, said that maybe her team will have better luck against the French.
"Maybe the referee will wear a Canadian jersey for this game," she said.