More off-days likely to come for Dodgers outfielder Yasiel Puig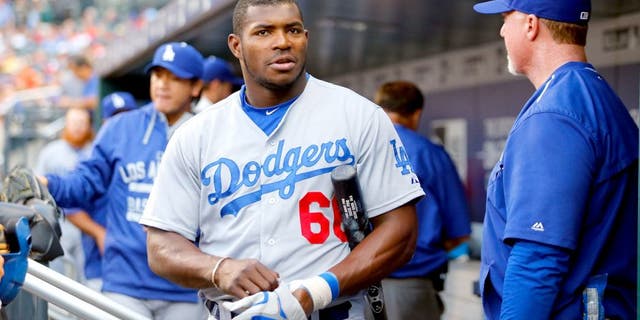 A day after propelling the Los Angeles Dodgers to a 4-3 victory with a three-run home run, Yasiel Puig wasn't in the starting lineup in the team's series finale against the Philadelphia Phillies.
Manager Don Mattingly hinted that more off-days might be in the forecast for the Dodgers right fielder, as Mattingly has noticed benefits from withholding the 24-year-old Cuban from the starting lineup.
"I think the days off are good for Yasiel, honestly," Mattingly said. "I don't know if he was just used to playing less games in Cuba, but his focus just seems sharper when he's getting a day-off-a-week or something like that."
Since returning the Dodgers from a left hamstring strain on June 6, Puig has played in 46 of Los Angeles' 49 games, starting 41 of those contests.
When Puig hasn't started, Mattingly has used him in a pinch-hitting situation; however not to much avail. The right fielder is 0 for 5 with two strikeouts as a pinch-hitter this season.
The Dodgers' surplus of starting outfielders has found Mattingly in a balancing act for the past three seasons since Puig was called up.
Mattingly says he plans to start current odd man out, Carl Crawford, once per series. Current left fielder Andre Ethier will likely shift to right field during Crawford's starts.
(h/t ESPN)