More evidence that the Padres' nastiest pitcher might be their backup catcher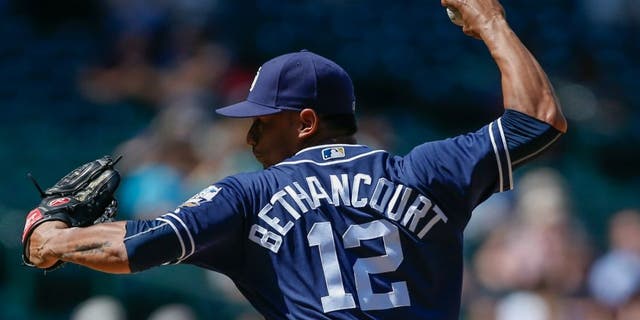 NEWYou can now listen to Fox News articles!
The last-place San Diego Padres were on the wrong end of another lopsided score Monday, though that allowed them to once again unleash their secret weapon.
Backup catcher Christian Bethancourt maintained his spotless ERA by pitching a scoreless ninth inning in the 13-4 loss to the Miami Marlins.
And he did it with some flair. MLB.com notes Bethancourt's first pitch to Chris Johnson was a 49-mph knuckleball, which was followed by two pitches that were clocked in the 90s. He topped out at 94 mph on three separate pitches and also recorded his first career strikeout -- fittingly, against Marlins reliever Brian Ellington.
"When I was younger, I didn't like pitching," Bethancourt told reporters, according to MLB.com. "I know I can throw hard, but I just don't like pitching, because eventually you're going to give up homers and all that. I'm a very competitive guy, so I didn't want that feeling when I was little. Now, it's different. Now I'm just out there having fun, and, of course, helping the team. They need me in that situation, because they don't want to use any more pitchers."
On May 31, Bethancourt made his major-league pitching debut against the Seattle Mariners, walking two batters and hitting another in two-thirds of an inning. However, he pitched his way out of the jam with some help from infielder Alexi Amarista, who recorded the final out of that inning to preserve a 16-4 deficit.
Despite Bethancourt's dominance, the Padres' bullpen ranks 28th in the majors with a 4.72 ERA.