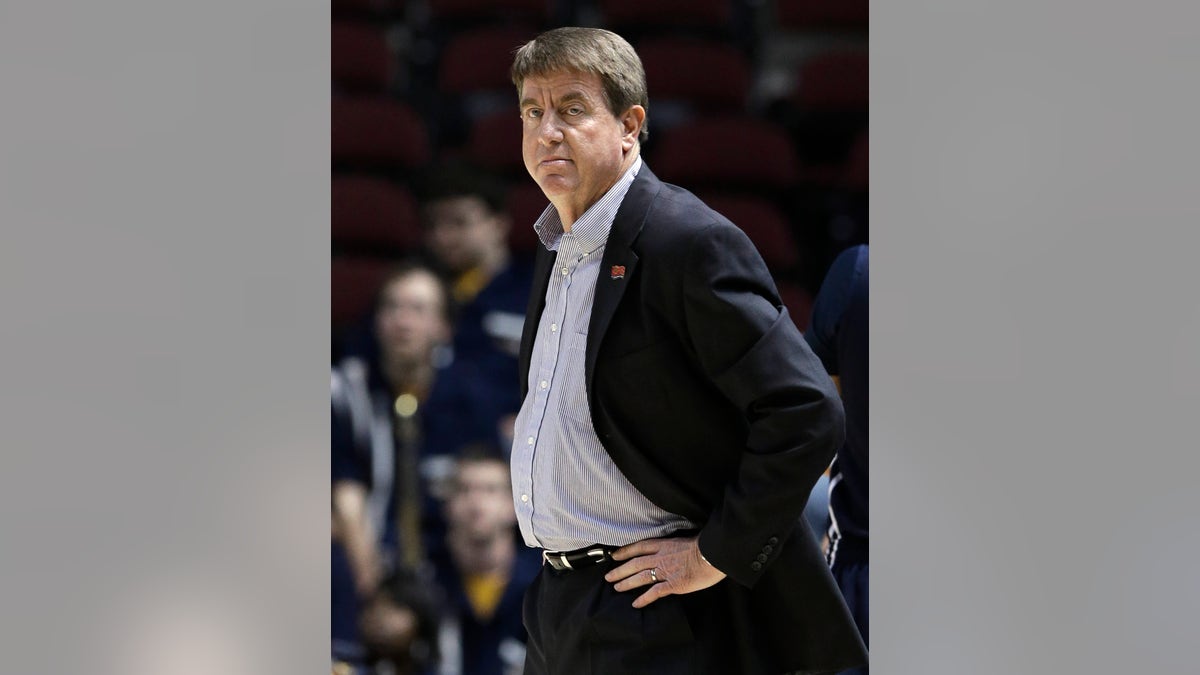 RALEIGH, N.C. – No one has to tell new coach Wes Moore how important it is for North Carolina State to have a successful women's basketball program.
Moore spent two years here in the 1990s as an assistant to late Hall of Famer Kay Yow, giving him roots in a tradition-rich program that has fallen off in recent years. It's his job to build the Wolfpack back up again to a team that routinely finishes in the top half of the Atlantic Coast Conference and makes the NCAA tournament.
"There's a lot of programs that can talk about competing at a high level and the success they can have," Moore said Monday during an introductory news conference. "Here at N.C. State, we've got proof. We know that it can be done here."
The school announced Friday that it had hired Moore away from Chattanooga in hopes that the man who guided the Lady Mocs to nine NCAA tournaments in 15 seasons can replicate that success in Raleigh.
The last time N.C. State hired a coach, it represented a new direction — even a clean break — from the 34-year tenure of Yow, who died in 2009 after a long fight with cancer. Yow won 737 games in a 38-year career that included coaching the U.S. Olympic team to a gold medal in 1988 along with reaching 20 NCAA tournaments and making a push to the 1998 Final Four.
Now N.C. State is going back to one of Yow's assistants to lead the program on the home court that bears her name.
"Coach Yow, obviously I wouldn't be here today without her influence and her support throughout all the years," Moore said. "She is who made Wolfpack women's basketball special, and I owe a lot to her.
"Because of my experiences with Coach Yow, I can come in here with my eyes wide open. I know what's it's going to take for us to be successful."
The Wolfpack went 13-14 in Moore's first year as an assistant, but followed with a 21-win season and a trip to the NCAA round of 16 in 1995 before he took over at Division II Francis Marion for three seasons before ending up at Chattanooga.
Athletic director Debbie Yow, Kay's sister, said Moore's tie to the Wolfpack was merely a bonus on a resume with 558 wins in 24 seasons.
"I think it's always a benefit if you have some level of familiarity with the school that you're about to join," she said Monday, "but that really was not germane to the choice. To be candid, it was more like icing on the cake."
Moore replaces Kellie Harper, who had some big moments in her 4-year tenure but failed to gain any real traction. Harper, a point guard on Pat Summitt's three national championship teams at Tennessee from 1996-98, reached the ACC tournament final and the NCAA tournament in her first year only to go 50-50 in her last three years before being fired March 26.
She also struggled to bring in difference-making recruits to help the program re-establish itself in a league now dominated by Duke, Maryland and UNC.
Former Wolfpack player Debbie Antonelli, now a college basketball TV analyst, said it was more important to find a winning coach than seeking out someone from Yow's coaching tree.
"I think what Coach Yow would want was for all of us to unite around whoever the coach was anyway," said Antonelli, who played for Yow in the 1980s. "We did that with Kellie. We'll do that with Wes. To me, it wasn't important you had some ties to N.C. State. Can you recruit, can you game plan and prepare in practice and can you game adjust? We know Wes can prepare, plan and adjust. The question is can he recruit? Obviously Debbie thought he could."
That's just one of many challenges that await Moore, who knows things will get even tougher with Notre Dame joining the ACC next year.
"You can either get in an inner-tube and coast down one of those lazy little rivers or you can get in a kayak and shoot the rapids," Moore said. "And we're going to shoot the rapids."
___
AP Basketball Writer Doug Feinberg in New Orleans contributed to this report.