Montreal, Buffalo Collect Shut Outs in NHL Playoff Openers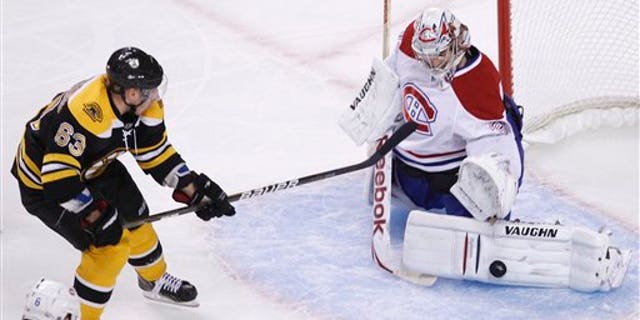 BOSTON -- Carey Price returned as Montreal's starting playoff goalie with his third postseason shutout, Brian Gionta scored twice and the Canadiens opened the series with a 2-0 win over the Boston Bruins on Thursday night.
Price started one of the Canadiens 19 playoff games last year when they reached the Eastern Conference finals. Jaroslav Halak started the others but was traded to the St. Louis Blues in June
This season Price started 70 games and on Thursday he turned aside 31 shots.
Gionta scored at 2:45 of the first period and at 16:42 of the third. The Bruins dominated play in the last 10 minutes of the second and ended that period with a 26-14 advantage in shots.
The game was played cleanly without any fights between the teams that had several physical confrontations during the regular season.
Miller Blanks Philadelphia on the Road
PHILADELPHIA — Ryan Miller stopped 35 shots for his second career postseason shutout and Patrick Kaleta scored to lift the Buffalo Sabres to a 1-0 win over the Philadelphia Flyers in Game 1 of the Eastern Conference playoff series Thursday night.
Miller stopped every shot under all types of pressure and carried the Sabres to the clutch opening win. The teams have met eight times in the postseason and the Game 1 winner won the series each time.
Kaleta snapped the scoreless tie early in the third period when he powered a rebound past rookie Sergei Bobrovsky.
No team was more resilient in last year's playoffs than the Flyers. They trailed Boston 3-0 in the East semifinals before taking the series and playing until a Game 6 loss to Chicago in the Stanley Cup finals.
Game 2 is Saturday in Philadelphia.