Montgomery's emergence gives Packers another versatile playmaker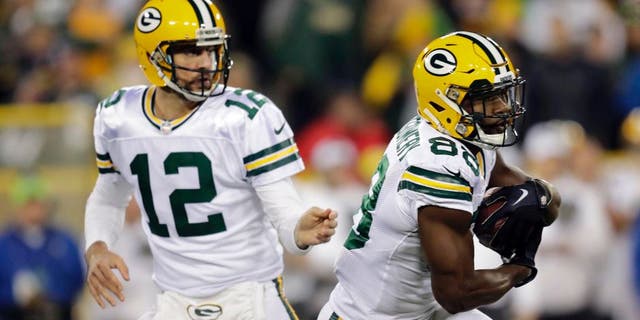 NEWYou can now listen to Fox News articles!
GREEN BAY, Wis. -- Ty Montgomery can line up split wide on one play for the Green Bay Packers and take a handoff the next as a running back.
He's listed as a receiver on the roster, but lately Montgomery has spent just as much time in the backfield.
In just two games, Montgomery has gone from non-factor to key contributor in Green Bay.
"I guess I'm a hybrid," Montgomery said. "I don't really know what you call it. I like to say I'm a football player, because I feel comfortable anywhere."
It's a good thing for the Packers that Montgomery is comfortable enough in the backfield . They would have been in dire straits without him in last week's 26-10 win over the Chicago Bears.
Eddie Lacy is on injured reserve with a left ankle injury. Backup James Starks remains sidelined with a knee injury.
Rookie Don Jackson, who had just been elevated to the practice squad before the Bears game, hurt his left hand in that contest and didn't play after the second quarter. Newly acquired Knile Davis is still getting up to speed on the Packers offense after being traded from Kansas City.
That left Montgomery taking the majority of snaps at running back. It's similar to the all-purpose role that Randall Cobb plays in certain formations, though with much more frequency.
For Montgomery, that means having to be well-versed in the playbook in two positions.
"I don't know how he does it, to be honest," Jackson said Thursday, "because that's a lot of information, and I struggle with this one."
Experience helps, even if it is just Montgomery's second season in the NFL.
Montgomery, who missed practice Thursday because of illness, had some success in a change-of-pace look out of the backfield before an ankle injury in Week 6 sidelined him for the season. He was an all-purpose star in college at Stanford, where he caught 172 passes for 2,215 yards and 15 touchdowns in his career, along with 334 yards and four scores on nine carries.
Montgomery and Cobb have both taken snaps in the backfield this year before injuries sidelined Lacy and Starks. Now Montgomery is playing more of a featured role out of the backfield, at least perhaps until Davis is ready to take on more carries.
Montgomery has 10 catches in each of the last two games after not having a reception in the Packers' first four. With Montgomery effective on routes in the flat or as a check-down option, short passes have helped make up for a lack of rushing attack.
"You can't really say he's a running back, he's a receiver. He's just a versatile football player who's very successful at what he's able to do," offensive coordinator Edgar Bennett said. "He's a matchup nightmare for a lot of different teams."
CLAY'S DAY
Linebacker Clay Matthews was limited Thursday after missing practice Wednesday with a hamstring injury. Matthews missed a game earlier this year with ankle and hamstring injuries in the same week. The Packers, who had their bye in Week 4, are coming off a long weekend after playing on Thursday night last week. Green Bay plays 10 straight weeks through the end of the season.
"So, I think we're just being smart and cautious, especially with this 10-game run in which we have," Matthews said. "You'd hate for something to happen and be out several weeks."
ON THE MOVE
The Packers waived Jared Abbrederis on Thursday after reaching an injury settlement with the receiver. Abbrederis (quad) had been placed on injured reserve Monday. An in-state resident who starred in college at Wisconsin, Abbrederis was a fifth-round draft pick in 2014. But his Packers career was marked by injuries. Abbrederis had one catch for 8 yards this season, and 10 catches for 119 yards in his career.
INJURY REPORT
T.J. Lang (hip) missed practice Thursday after being limited Wednesday, though the veteran guard sounded optimistic about playing against Atlanta. Lang said he's dealt with a lingering hip issue the couple years, but the injury flared up a little more this season. ... Cobb (hamstring) was limited. ... Jackson was a full participant for a second straight day.