Montana upsets North Dakota State because #StittHappens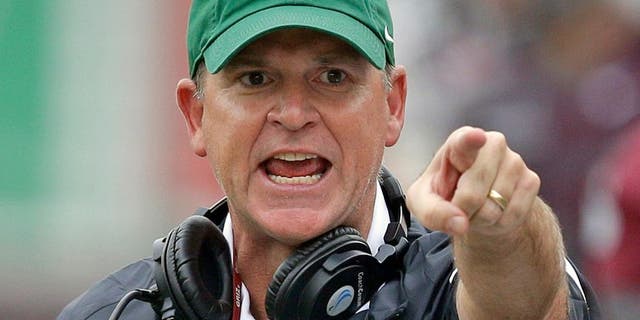 So, with apologies to Urban Meyer, and Nick Saban and Jim Harbaugh, and all three of their respective quarterback battles, on Aug. 29, 2015, Bob Stitt owned the college football world.
And it was because of a lot more than a hashtag that was thought up over some beers or a T-shirt.
Stitt, the 51-year-old from Tecumseh, Neb. orchestrated an amazing debut performance in his first game as Montana's head coach, knocking off No. 1 North Dakota State, a program that has won the last four FCS national titles.
Stitt's Griz were a 14.5-point underdog. No matter, the Griz rallied from a 35-31 deficit in the game's final minute, at one point converting a fourth-and-10, before scoring the game-winning touchdown on a fourth-and-goal from the Bison 1-yard-line with two seconds remaining. Better yet, the legendary Brent Musburger called it on national TV, and it was the only Division I game of the weekend, so the entire college football world was watching. So were many prominent coaches who over the last decade have become part of the Cult of Stitt that also includes college hoops coaches (Va. Tech's Buzz Williams) and NFL guys (Vikings QB coach Scott Turner even visited Montana to see Stitt and brought up some new plays.)
Having known Stitt for a while, I have to say this was one of the cooler stories I've seen in college football. On Saturday, the guy, with the help of social media and a starving college football audience, made the leap from cult hero to folk hero.
As I wrote in a feature last year, I first met Stitt at a coaching clinic at Houston. Among the coaches there were Texas A&M's Kevin Sumlin, West Virginia's Dana Holgorsen, Cal's Sonny Dykes, TCU's Doug Meacham and UCLA's Noel Mazzone -- many of the top offensive minds in the game. Yet, it was Stitt who seemed to make the biggest impression at the clinic.
"If this stuff works with our guys, it'll probably work with the guys you have," Stitt said near the start of his presentation that day a half-dozen years ago. "We're an engineering school, and we only have one major, engineering. Our average ACT score in math is 29 (out of 36)."
Stitt's topic that day was the virtues of the back-shoulder throw. He explained in Houston that he used to dread opponents lining up in press coverage and blitzing his team, but the back-shoulder throw had offered a solution. "We want man coverage, and we've got receivers who run 4.8 and 4.9 40s," he said.
Stitt has since proven to be one of the most innovative coaches in the game, whether it was coming up with a twist on the fly sweep; or a variation on a tunnel screen he gave to the A&M staff, which the Aggies used in last year's season-opening win at South Carolina; or transforming one of the most inept teams in D2 into one of the most prolific.
On Saturday, Stitt's team did to the mighty Bison what his teams had been doing for the past decade-plus at a D-2 engineering school, Colorado School of Mines: going up-tempo, mixing in all sorts of off-balance plays and never taking their foot of the gas -- especially not on fourth downs. Stitt's offense rolled up 544 total yards on 92 plays against a defense that only allowed 280 a game last season. Along the way, Stitt kept defying convention by going for it on fourth down six times, converting four.
"Everybody's got to get used to that," Stitt told reporters afterwards. "We were four of six and going for fourth downs gives us a chance to win. People have to understand that when you convert those in the first half and keep those drives going, that's why we had a chance to win in the fourth quarter.
"Those guys had to defend 92 plays. When was the last time North Dakota State ever had to defend 92 plays? It's all a process. Everybody's got to stay calm and the defense has to go out and bail us out once in a while, but it will help us win ballgames."
After the game, as I watched Stitt, his players and Griz fans celebrate, I thought about how many D-1 jobs he tried for and came up empty both as an OC and as a head coach just hoping for a shot. (Wyoming, CSU and Colorado were three head coaching vacancies he missed out on in recent years). Saturday's upset over the Bison only made Montana 1-0 as Stitt later pointed out, but #StittHappened and it was a heckuva way to start to the 2015 college football season.
Bruce Feldman is a senior college football reporter and columnist for FOXSports.com and FOX Sports 1. He is also a New York Times Bestselling author. His new book, The QB: The Making of Modern Quarterbacks, came out in October, 2014. Follow him on Twitter @BruceFeldmanCFB and Facebook.