Monday Night Football: Cowboys kneel before national anthem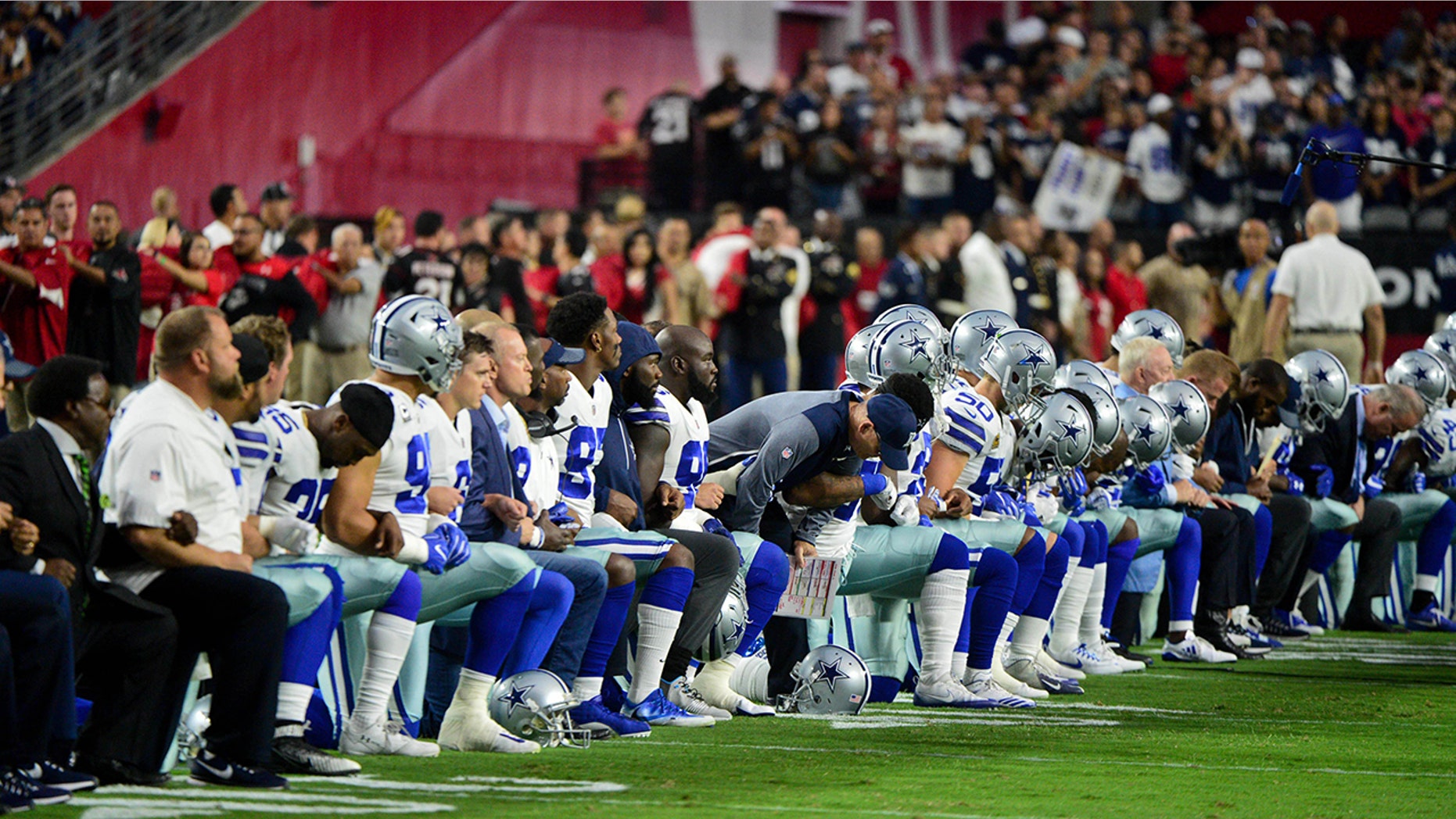 The Dallas Cowboys briefly kneeled before the national anthem ahead of their Monday night game against the Arizona Cardinals, capping off a weekend that saw more than 200 players kneel or sit during the anthem itself.
Both teams had discussed with each other what they had planned to do for the opening of Monday's game, according to ESPN commentators at the University of Phoenix Stadium in Glendale, Ariz., on Monday. What they agreed to do was an individual sign of solidarity.
The Cowboys, often referred to as "America's Team," along with owner Jerry Jones, stood in the middle of the field before the anthem was sung and locked arms -- then took a quick knee before going back to the sidelines. Boos could be heard in the Arizona crowd.
Then, the Cardinals stood with their arms locked as well, but in the end zone, as a field-length American flag was unfurled. An announcer urged fans to lock arms with those seated next to them, "no matter the color of their jersey."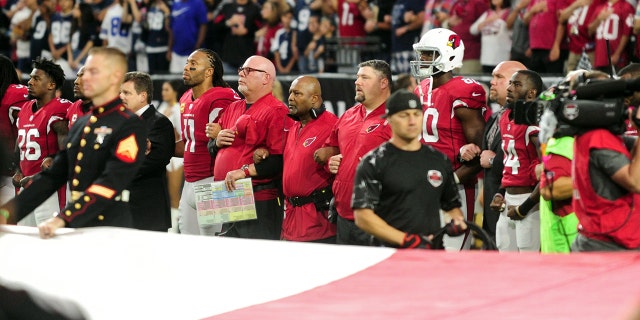 Singer Jordin Sparks then sang "The Star-Spangled Banner" to the cheering crowd. Both teams stood with arms locked for the duration of the national anthem.
Typically, ESPN does not televise the national anthem on Monday Night Football programming -- but the events of the weekend brought the anthem in sharp focus.
More than 200 NFL players made some form of gesture at games on Sunday — many kneeling or sitting on the bench — in reaction to comments and tweets by Trump, who called on team owners to fire players who followed former San Francisco 49ers quarterback Colin Kaepernick's lead by kneeling during the national anthem. Some owners locked arms with players.
Trump's unprompted raising of this issue began with a speech Friday night in Alabama, where he told a crowd of supporters, "Wouldn't you love to see one of these NFL owners when somebody disrespects our flag to say get that son of a bitch off the field right now, out, he's fired, he's fired."
He then followed up with a series of inflammatory tweets over the weekend and into Monday, even drawing other sports such as the NBA and NASCAR into the fray.
Kaepernick, who no longer has a job with any NFL team, began kneeling during the anthem in the preseason a year ago to make a statement about social inequality and police treatment of blacks in the United States.
A handful of players had carried on what Kaepernick started; a half-dozen engaged in some form of protest last week.
"It certainly is our hope that people stand during the national anthem, but we also respect their right to make a personal statement or expression of their personal beliefs," NFL spokesman Joe Lockhart said in a conference call with reporters on Monday.
"In the first couple weeks of this year, it was a handful of people expressing themselves. We defended their right to do that," Lockhart said. "There were a whole lot of people this weekend doing that, and the only thing that has changed was some comments from someone who lives in Washington."
The Associated Press contributed to this report.