Monday, May 1: Tampa Bay Rays at Miami Marlins game preview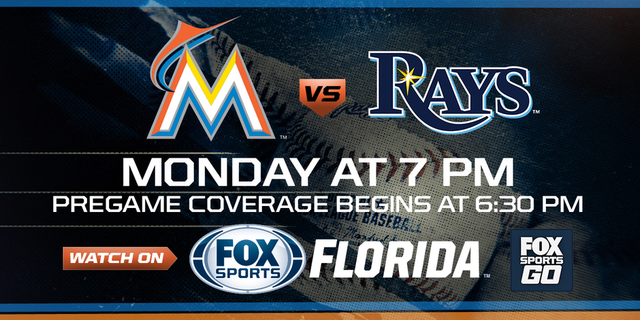 TV: FOX Sports Florida
TIME: Pregame coverage begins at 6:30 p.m.
CAN'T GET TO A TV? WATCH IT LIVE ON FOX SPORTS GO
MIAMI -- The major leagues' two Florida franchises -- both playing less than .500 ball -- get together for four games in the next four days.
It is not exactly a World Series preview: The Miami Marlins (11-12) have lost four of their past five games, and the Tampa Bay Rays (12-14) have lost two games in a row as well as three consecutive series.
On Monday and Tuesday at Marlins Park, both teams will try to change those trends before the scene shifts to Tampa Bay for games Wednesday and Thursday.
Rays manager Kevin Cash -- ever the optimist -- is confident his team is close to getting on a positive run.
"I'm excited about the way the guys have played," Cash told said during the weekend. "But it's tough because we don't accept playing (below) .500 ball."
The Rays have dealt with significant injury issues.
Tampa Bay has not had starting shortstop Matt Duffy, starting left fielder Colby Rasmus and relievers Shawn Tolleson and Brad Boxberger all season. Along the way, the Rays lost their second-string left fielder (Mallex Smith), their No. 2 starter (Jake Odorizzi) and their only lefty reliever (Xavier Cedeno).
In total, they have already placed 11 players on the disabled list, and that does not include three advanced pitching prospects who might have been able to help had they also not gone down.
The good news is Odorizzi (1-1, 4.15 ERA) is set to come off the disabled list to make the start Monday at Miami. Odorizzi, who has been out since April 15 due to a strained left hamstring, is 1-0 with a 0.00 ERA in his lone Marlins Park start.
Miami will counter Odorizzi with lefty Wei-Yin Chen (2-1, 4.71).
Chen, in his second season of a five-year, $80 million free agent contract he signed after bolting away from the Baltimore Orioles, has not pitched well at Marlins Park. Last year, he was 1-1 in 11 starts there, posting a 5.49 ERA. This year, in one Marlins Park start, he is 0-0 with an 18.00 ERA.
As a former Orioles pitcher, Chen faced the Rays in quite a few AL East battles. He is 5-6 with a 3.76 ERA against the Rays, and his 20 appearances against Tampa Bay are the most he has against any team.
Chen hopes to get some support on Monday. His Marlins, after getting shut out on 95 pitches by Pittsburgh Pirates ace Ivan Nova on Saturday, bounced back on Sunday to defeat the Bucs 10-3.
"That was a huge team win," said Marlins starter Tom Koehler, who failed to go the minimum of five innings and therefore got a no-decision despite the huge offensive outburst. "To be able to explode a bit at the end was nice. Hopefully, we can carry that into the next series."
Given that backup catcher A.J. Ellis started on Sunday, the Marlins are expected to go back on Monday to J.T. Realmuto, who has been their most consistent hitter, leading the team in batting average (.342) and on-base percentage (.383).
Ellis, meanwhile, is batting just .136.
However, the Marlins are 4-1 when Ellis starts and just 7-11 when Realmuto is that game's catcher.
In addition, Marlins pitchers have a 3.00 ERA when they throw to Ellis and a 4.68 ERA when Realmuto is behind the plate.
Coincidence?
Maybe not. Realmuto's catching ERA was similarly poor last season, and the veteran Ellis is known as a leader who does well handling a pitching staff.
It will be interesting to see how or if Realmuto helps Chen navigate a lineup that includes six hitters who are batting below .230. Tampa Bay has just one .300 hitter -- Corey Dickerson (.330).
Odorizzi, on the other hand, will face a tougher lineup that is healthy and has seven hitters batting over .265. The eighth hitter in Miami lineup is first baseman Justin Bour, who on Sunday had a career day with four hits and six RBIs.
"It was really just a matter of time for Justin to break out, to do something like this," Marlins manager Don Mattingly said. "I know he cares, and I know he has a good swing."