MMA Q & A: UFC Champ Cruz Wants To Shut Faber Up Once And For All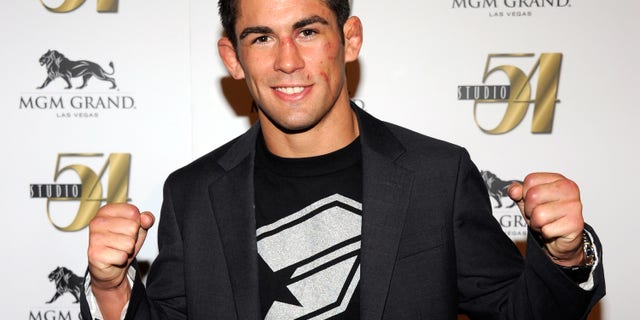 Dominick Cruz has done all he can do to put himself at the top of his division in the UFC.
The bantamweight champion avenged his lone career loss to heated rival Urijah Faber last year as well as defended his title against Demetrious Johnson, a top contender.
Cruz has done all he can to cement himself as one of the top pound for pound fighters in mixed martial arts.
But one man keeps taking the spotlight away from Cruz and injecting himself in the title picture yet again.
Faber has once again been pegged to challenge Cruz for his title later this summer as they face off for the third and maybe final time.
In the meantime both men will face off as coaches of "The Ultimate Fighter Live" which debuts this Friday night on FX.
Fox News Latino spoke to Cruz this past week about coaching, Faber and what the future holds for him beyond the bantamweight division.
Fox News Latino: Last time I spoke with you, after you had beat Demetrious Johnson you were fed up with talking about Urijah Faber yet here we are back again. It's you vs. Urijah. It's on FX now which is even bigger, it's live. Then you have a big fight probably at UFC 148 with Urijah, how do you feel about that whole situation and how it's played out?
Dominick Cruz: What's his name again?
[Laughter]
FNL: You've expressed it to me and it's funny. I wish I could ask about something else but it always seems like [you guys are connected]. Hopefully this will settle it. This is the third and final time. Is that what you're hoping for?
Cruz: I mean I doubt it. Let's keep it real. [Laughs] The guy never stops talking, he never shuts up. It's probably not the last time I'll hear about it, he'll never quit whining. It is what it is. The bottom line is I'm fighting him on [The Ultimate Fighter], we don't like each other, it doesn't really matter. There's a lot of people that go to work every day and dislike the person they work with and they have to go to work every day anyways don't they? And that's the way I look at it. That's exactly the way I look at it. I'm going to work for the next 13 weeks but I'm still in a beneficial position in the fact that I get to go to a job I love and can help other guys improve and I'm not going to let Faber ruin that for me.
FNL: Let's say you beat Urijah this next fight and that's over with. You've accomplished so much in the bantamweight division. Are you ready to drop down or try another division? Do you have any plans for the future?
Cruz: My plans for the future are beating the crap out of Faber and quit having to hear his name. That's it man. And as for dropping down, out of the question, I couldn't drop lower than 135 pounds if my life depended on it because it does every single fight.
FNL: How about going up?
Cruz: It could happen. I'm not going to turn that down. But right now I'm happy where I'm at. This is my best competition weight and I'm having the most success here. And I think there are plenty of guys coming up in the division that can challenge any position. Can they beat me? No but they can challenge.
For more from Dominick Cruz on Urijah Faber and this Friday's "The Ultimate Fighter Live" premiere listen to the full interview below.
Follow me on twitter @MrVicGarcia
Follow us on twitter.com/foxnewslatino
Like us at facebook.com/foxnewslatino