MMA Bread 'N' Butter: How Holly Holm's movement & balance help her score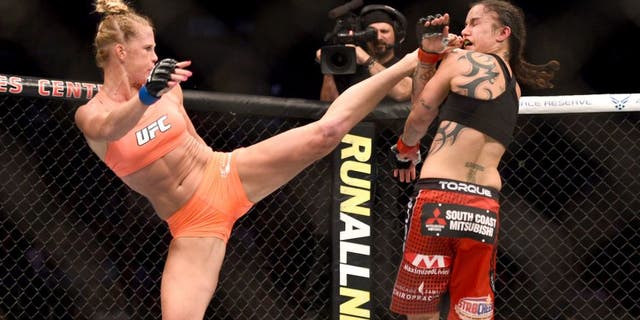 NEWYou can now listen to Fox News articles!
As a former boxer, coach Jason Parillo is able to appreciate great hands when he sees them in MMA. So, he obviously thinks highly of former boxing world champion Holly Holm.
Few MMA fighters are able to keep balanced while moving well on their feet the way Holm does, according to our resident MMA Bread 'n' Butter expert. "She's got really great movement, and great balance," he says of the UFC 193 title challenger.
"She's able to move laterally, able to move forward, she's able to move backwards."
In addition to her solid hands and nimble movement, Holm most impresses Parillo with the way she is able to finish her punch combinations with kicks. Most fighters simply move backward when confronted with a striking attack, instead of deftly angling out.
So, when Holm marches down opponents with punches, they often back straight up to get out of the way. Even if she doesn't connect with those shots, Holm is able to do damage by adding a kick onto that punch combination.
Opponents may think they are out of danger because they've avoided her punches, but when they back straight up, they're still directly in front of her, and though they may be out of reach of her fists, they are still in kicking range. "The thing that I'm most impressed with is the way she's able to push opponents back on their heels with her punches, and then finish the combination with a kick," he explained.
"She has such great balance that she's able to finish a combo with that high kick and get her opponent out of there. It's a really rare thing, and is very impressive."