MLB's Bruce Maxwell was reportedly drunk, made anti-police remarks during arrest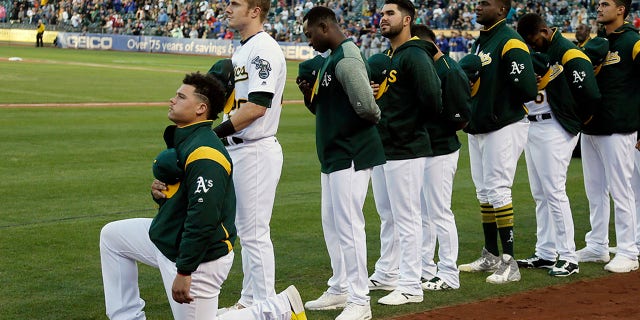 The Oakland Athletics catcher who made headlines when he knelt during the playing of the national anthem was reportedly intoxicated and made anti-police remarks while being arrested for allegedly aiming a gun at a female delivery driver's head.
Maxwell, 26, was arrested Saturday in Scottsdale, Ariz. after officers received a call about a person with a gun. The MLB player is accused of aiming a handgun at a female delivery driver's head as he opened the door of his residence, The Mercury News reported.
Maxwell reportedly lowered his gun and took the food, according to court documents obtained by ABC15.
The woman called police after she left his home and retreated to her car.
Officers reported Maxwell appeared to be intoxicated and wrote a "strong odor of intoxicating liquor emanated from his breath" when they arrived to the MLB player's home, court documents stated. The officers also said Maxwell raised his voice when he was speaking, "was verbally aggressive, used excessive profanities and made anti-police statements," ABC15 reported.
MLB'S BRUCE MAXWELL, WHO KNELT DURING ANTHEM, IS ARRESTED ON GUN CHARGE
Maxwell denied aiming his gun at the woman, but said he pulled the handgun from his pants. He told officers he canceled his order. The restaurant told police Maxwell did not cancel his order.
Maxwell was booked on charges of aggravated assault with a deadly weapon and disorderly conduct.
Maxwell was held in Maricopa County jail but posted the $10,000 bail. His court appearance was slated for Nov. 6, NBC Bay Area reported.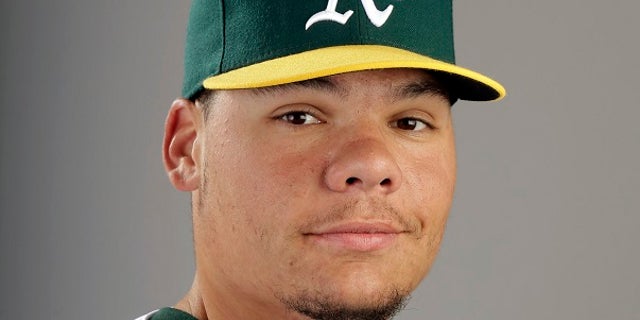 The Oakland Athletics released a statement regarding Maxwell's arrest
"We were disappointed to learn of the allegations. We take this situation and ongoing investigation seriously," the A's said in a statement. "We are gathering information from the proper authorities and do not have further comment at this time."
WAITER: MLB CATCHER BRUCE MAXWELL MADE UP STORY ABOUT SERVICE REFUSAL OVER ANTHEM PROTEST
Maxwell, 26, hit .237 with three home runs and 22 RBIs in 76 games this season. He was projected to be Oakland's starting catcher next year.
Last week, Maxwell claimed during a visit to his hometown of Huntsville, Ala., that he was refused service at a restaurant because he knelt during the national anthem before a game in Oakland, Calif.
But a waiter told Fox News that Maxwell was "outright lying," about what happened.
"I didn't even know who Bruce Maxwell was," waiter Matt Henry said.
The Scottsdale Police Department did not immediately respond to Fox News' request for comment.
The Associated Press contributed to this report.