MLB says it removed viral video of Terry Collins heated dispute with umpire from Internet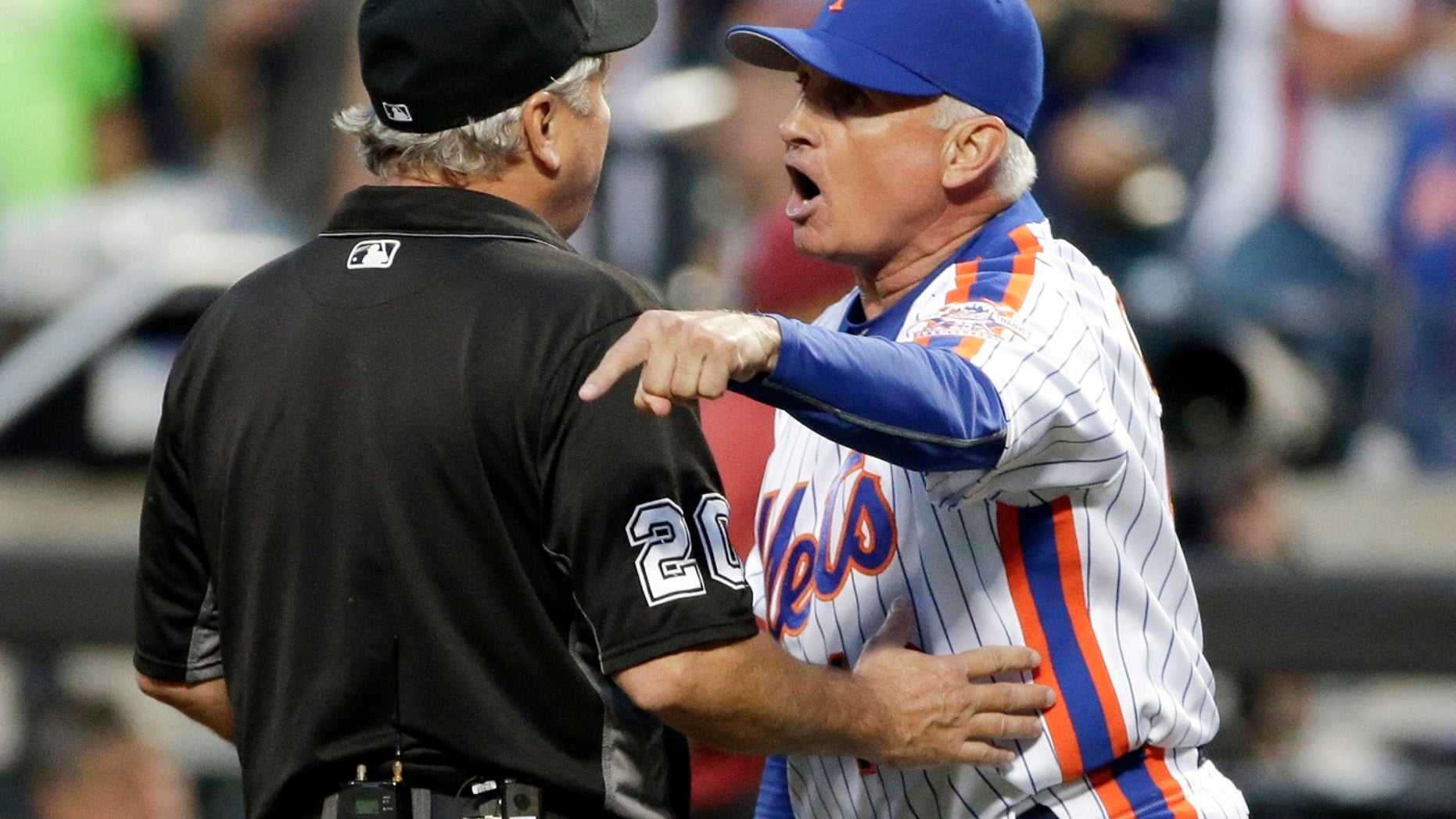 Catch it while you can.
Major League Baseball announced on Thursday plans to purge a viral video showing former New York Mets manager Terry Collins within kissing distance to an umpire during an expletive-laced rant that gave fans a glimpse into the sheer emotion of what it's really like during a heated debate on the field.
Collins can be heard shouting at the home plate umpire after he tossed Mets pitcher Noah Syndergaard. The 2016 incident involving Collins and Umpire Tom Hallion, who was wearing a mic in the video, resurfaced this week across social media and quickly spread like wildfire.
In the video, Hallion can be seen trying to calm Collins after his pitcher was ejected for a ball thrown behind Dodgers' Chase Utley.
The Dodgers infielder broke Mets shortstop Ruben Tejad's leg during the 2015 postseason with a controversial slide into second base. His initial two-game suspension was later overturned by the league.
"It's f----ing bulls---," Collins can be heard yelling, "you gotta give us a shot." 
Hallion was at first explaining the call to Syndergaard and his teammates but quickly shifted his attention to Collins, who was screaming in the face of the home plate umpire.
"Our a-- is in the jackpot now," Hallion can be heard, trying to explain to the furious Mets manager. 
MLB Commissioner Rob Manfred said the league made a "commitment to the umpires that if they would wear microphones, certain types of interactions that we all know go on the field would not be aired publicly."
"We promised them that. It's in the collective bargaining agreement. We had no choice in a situation like that than to do everything possible to live up to our agreement," he said Thursday after the owners meetings ended. "It is Labor Relations 101. To not do that is the kind of breach of trust that puts you in a bad spot over the long haul," he said.
The commissioner told Jared Diamond, national baseball writer for The Wall Street Journal, that the video has been "scrubbed from the Internet."
But as Pete Grathoff of the Kansas City Star points out, while the person who initially tweeted the video has since removed it, at least one more has already popped up in its place – proving a tough task for the commissioner.
The Associated Press contributed to this report.