MLB Quick Hits: Stanton's return in doubt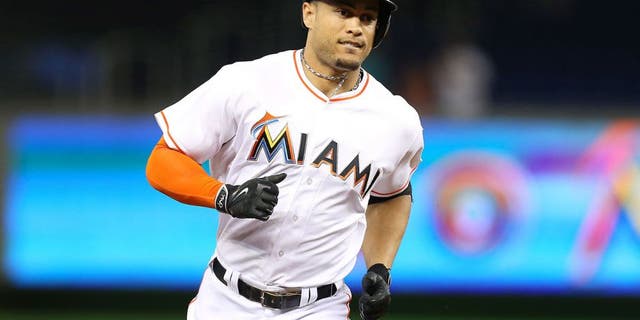 Marlins OF Giancarlo Stanton, who has been out since June 26 due to a broken left hand, was supposed to return to the lineup last week, but didn't after some discomfort with the injury. Stanton still doesn't have full strength in the hand, and said Sunday that there's a "possibility" he'll miss the rest of the season. This is one of those situations where it would be really nice to have a guy back, but with four weeks left in the season, you can't count on him at all. If you have any "What should I do with Stanton now?" questions, send me a tweet (@jhalpin37).
In other news ...
Players Tribune New York City Bureau Chief Matt Harvey reports that Mets SP Matt Harvey will indeed pitch in the playoffs. I wonder if he'll get skipped again this month, though.
Red Sox DH David Ortiz left Sunday's game due to tightness in his calf, and is day-to-day. Teammate Dustin Pedroia (hamstring) could be back in the lineup as soon as Tuesday.
Nationals SP Stephen Strasburg is listed as Wednesday's probable starter.
Blue Jays SP Marcus Stroman might return to the rotation this weekend, just six months after tearing an ACL in spring training. We'll know more after Stroman's Triple-A start today.
Mariners DH Nelson Cruz hopes to return today or tomorrow from a quad injury.
Speaking of the Mariners, you know who leads the majors on saves over the last two weeks? Tom Wilhelmsen, with seven. He's owned in 14.7 percent of FOXSports.com leagues.
2B Joe Panik (back inflammation) returns to the Giants' lineup today following a five-week absence.
Look for 1B Lucas Duda (back) to rejoin the Mets' lineup today.
Orioles C Matt Wieters missed games on Saturday and Sunday due to a sore wrist, but the team hopes he can play today.
Today's streaming starter options aren't plentiful, but let's go with D-backs lefty Patrick Corbin (owned in 13.8 percent of FOXSports.com leagues) versus the Giants.
DFS advice (based on 50/50 games, day games only, salaries from DraftKings): I'm going to spend on pitching today, using Chris Sale ($13,100) against the struggling Indians, and Ian Kennedy ($8,900) versus the Rockies. Kennedy has averaged 27.6 DK points over his last four starts ... If you're not spending at catcher, Miguel Montero ($3,100) looks OK against Lance Lynn. Montero homered Sunday, and has six hits in his last four games ... Nats 2B Anthony Rendon ($3,500) has been rolling, with four double-digit DK games in his last six ... If you don't pay up for Correa or Tulo at SS, Xander Bogaerts ($3,800) and his .404 wOBA vs. LHP are solid vs. Mark Buehrle ... The Rays bat Brandon Guyer ($2,900) at or near the top of the order against lefties, so he's in a good spot versus 67-year-old Randy Wolf ... The mid-priced outfield fills out with lefty killer Jayson Werth ($3,600) and David Peralta ($3,300) ... I need to save at 1B, so I'll use Justin Bour ($3,500) vs. Brewer rookie Zach Davies.
See you back here Wednesday morning.