MLB Quick Hits: Reds lose speedy Hamilton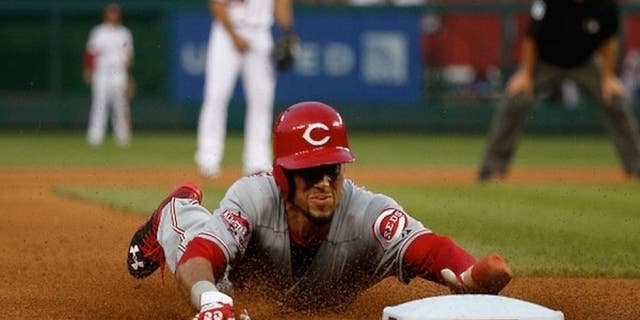 NEWYou can now listen to Fox News articles!
Has Billy Hamilton carried your fantasy team to the top of the stolen-base heap? If so, you'll need to hang on for awhile, as Hamilton is on the DL with a sprained right shoulder. Hamilton is expected to miss the minimum 15 days, and will be replaced by a menagerie of Jason Bourgeois, Brennan Boesch and Marlon Byrd. The 33-year-old Bourgeois led off on Wednesday, but doesn't seem to run much these days (granted, he hardly ever plays).
If you need to replace Hamilton's speed, Jarrod Dyson (owned in 1 percent of FOXSports.com leagues), Gregor Blanco (4.1 percent owned), Michael Taylor (3.4 percent owned) and Delino DeShields (10.6 percent owned) are all widely available. Even Michael Bourn (2.2 percent owned) has started running again.
In other news ...
Byron Buxton comes off the DL today for the Twins, but unfortunately he replaces the surprising Aaron Hicks, who is on the DL with a hamstring injury. Buxton (5 percent owned) has as bright a future as almost anyone, but looked overmatched before getting hurt, striking out 15 times in 39 plate appearances.
Rangers SP Derek Holland pitched well in his first start since April. He's owned in just 13.2 percent of leagues.
Speaking of Hollands, does anyone know why Greg Holland was passed over in favor of Wade Davis for the Royals' Wednesday save? Holland threw 23 pitches on Tuesday - maybe that's it.
Drew Pomeranz closed out the A's Wednesday victory. The A's have been using a committee, so Pomeranz has as good a chance as anyone there to get saves over the final six weeks of the season.
Now that Chase Utley is a Dodger, will he have fantasy value? Eh, maybe in deeper mixed leagues. Utley might bat high in the order, but he doesn't hit lefties well any more, so he might not play every day - especially when Howie Kendrick comes off the DL. This isn't an exciting fantasy move.
One of the prospects the Phillies got in return for Utley is 2B/UT Darnell Sweeney, who has nine homers with 32 steals at Triple A this season. Sweeney will take Utley's spot on the Phillies' roster, and is worth a look in NL-only leagues. The Phils will probably give Sweeney some playing time, so his speed can come in handy for you. Here's a scouting report on Sweeney and RHP John Richy.
Brewers OF Khris Davis homered twice on Wednesday, giving him three multi-homer games over the last two weeks.
Tigers rookie lefty Daniel Norris homered, didn't pitch well and injured an oblique on Wednesday. He's headed to the DL.
Mark Teixeira's bruised leg isn't getting better. He's still day to day, won't play tonight, and a DL stint is possible. But that's OK, because GREG BIRD IS THE GREATEST HITTER EVER!!! Bird hit the first two of his projected 900 career home runs on Wednesday.
Red Sox 1B Travis Shaw had five homers in 322 plate appearances at Triple A, and has gone deep six times in 55 plate appearances since his promotion. Trust the former stat before the latter.
Matt Harvey might get skipped on Sunday.
Wily Peralta was terrible as Wednesday's streaming starter, but he got a win so we shouldn't complain too much. Today's pick is Patrick Corbin (20.1 percent owned) at Cincinnati. Corbin has pitched well in eight starts since returning from Tommy John surgery, posting a 3.43 ERA with 43 strikeouts against 11 walks in 42 innings.
DFS advice (based on 50/50 games, salaries from DraftKings): Jake Arrieta ($11,900) would be your big-money SP today, but a combo of Corbin ($9,300) and Charlie Morton ($7,000) leaves lots of room for bats ... Small-sample Coors BvP alert: Carlos Gonzalez is 3-for-9 with three homers vs. Max Scherzer; Ryan Zimmerman is 4-for-6 with two homers against Yohan Flande ... Matt Wieters ($3,300) is your most cost-effective catcher vs. Twins ... The Nats' righties look great against Flande, and neither 2B/3B Danny Espinosa nor Jayson Werth (both $3,700) is expensive ... Cubs 2B/OF Chris Coghlan ($3,400) hits RHP well, and Atlanta's Mike Foltynewicz struggles vs. LHB (.407 wOBA). It's a perfect match ... Phillies 2B/SS Cesar Hernandez ($3,300) has cooled off lately, but he still has a .362 wOBA vs. LHP, and faces Miami's Brad Hand ... Marlins 3B Derek Dietrich ($3,100) has averaged 15.5 DK points over his last four games.
See you back here tomorrow morning.