MLB Quick Hits: Phils' Utley ready to go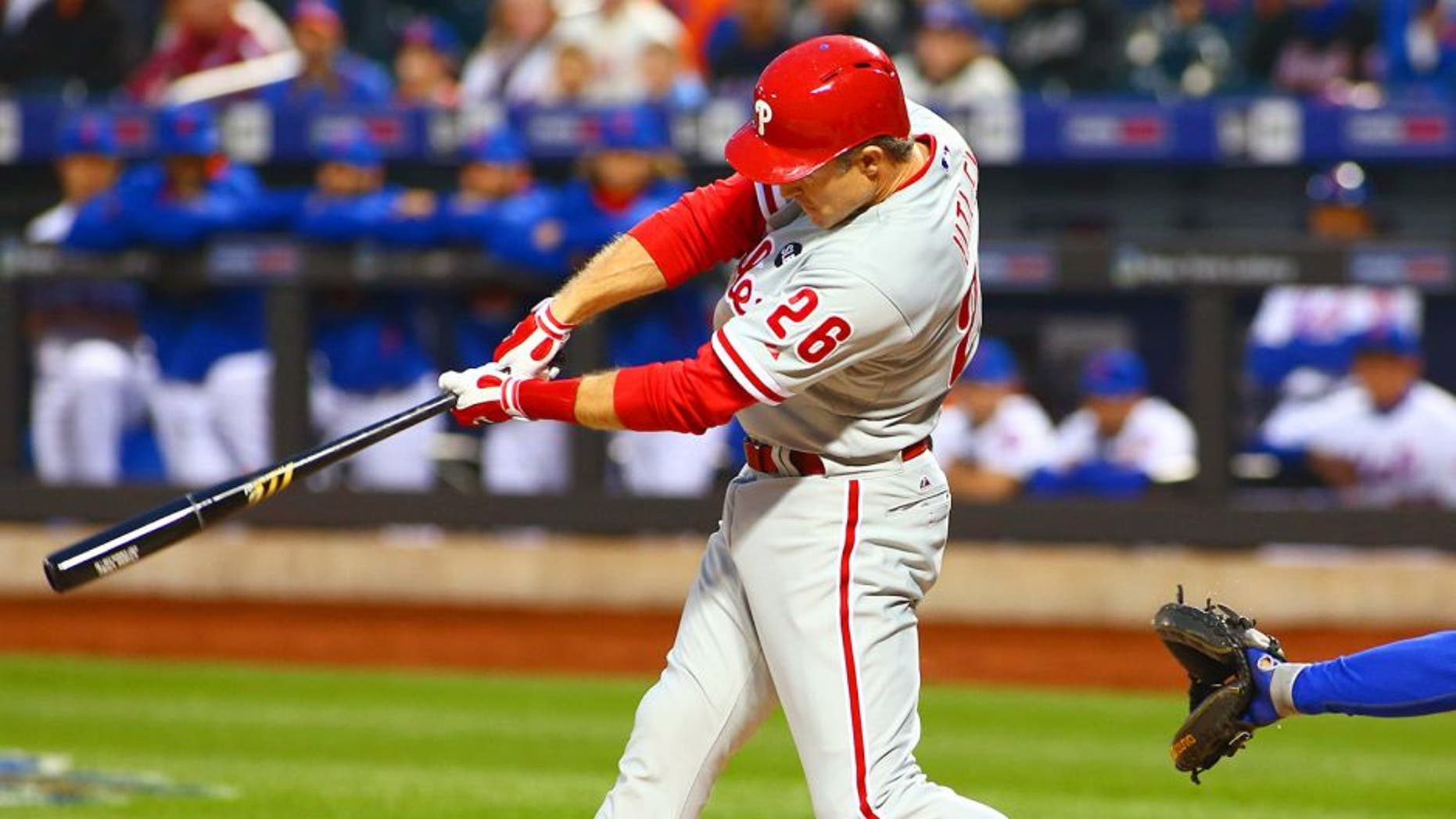 Phillies 2B Chase Utley had three hits in his latest rehab game on Wednesday, and is likely to come off the DL on Thursday or Friday. This news isn't as exciting as it would have been five years ago, but it's still something, right? Eh, not so much.
Manager Pete Mackanin said Utley will play both second base and first base, and added, "Hopefully three or four days a week I can get him in." Even though Utley's .179 BA is likely to improve, his projected lack of playing time keeps him out of mixed-league consideration. Let's just hope he doesn't steal any time from Cesar Hernandez, who could play shortstop or center field when Utley is at the keystone.
In other news ...
Yankees SP Luis Severino was very impressive in his debut, whiffing seven batters and allowing one earned run on two hits in five innings. He's owned in just 29.4 percent of FOXSports.com leagues at the moment, and I'll admit that I'm more willing than I was yesterday to add him in a standard mixed league.
Mariners manager Lloyd McClendon brought RP Carson Smith for one batter in the eighth inning on Wednesday. Smith wasn't supposed to pitch, but they really needed the out, and he got it. Then Fernando Rodney came in for the ninth inning and blew the save. If you own Smith and panicked when you saw the boxscore, don't worry. All is well.
Speaking of closers, LaTroy Hawkins got Wednesday's save for the Blue Jays because Aaron Sanchez started serving his three-game suspension. Sanchez is eligible to return on Saturday.
In other Jays' news, Marcus Stroman (knee surgery) is scheduled to begin a rehab assignment on Aug. 21, and might be able to pitch in relief next month. The rich get richer ... in Canadian dollars, anyway.
Every time you wonder if Brewers SP Taylor Jungmann will come back to Earth, he pitches another good game. Jungmann is owned in just 46.1 percent of FOXSports.com leagues.
The Tigers went matchup with their bullpen on Wednesday to close out Matt Boyd's terrific debut. Southpaw Blaine Hardy started the ninth inning, facing Kendrys Morales (switch hitter, bad vs. LHP) and Mike Moustakas, and then Alex Wilson came on to get the final out. Bruce Rondon pitched the eighth inning, indicating that despite my blogging pleas, Brad Ausmus isn't planning to make him the closer.
The Giants hope to get 2B Joe Panik (back inflammation) back from the DL after the minimum 15-day stay. The same goes for Dodgers 3B Justin Turner (skin infection), who could return Aug. 12.
The Orioles' Sunday starter is TBD, with Chris Tillman (ankle) as the likely candidate if he's ready.
Twins OF Byron Buxton (thumb) could start a rehab assignment as soon as Friday, and will probably need 7-10 days before activation, according to the team's website.
Severino did a great job as our Wednesday streaming starter. Today's slate includes almost no good low-owned options, but if I needed to pick one, it would be Houston's Scott Feldman (1.3 percent owned) at Oakland.
DFS advice (based on 50/50 games, salaries from DraftKings): Zack Greinke ($13,500) is clearly the top pitching option in the afternoon slate, to an extent that it's probably foolish to avoid him ... Washington's Joe Ross ($8,700) has averaged 23.5 DK points over his last five starts ... Dodgers C Yasmani Grandal ($4,200) is expensive, but didn't play last night and faces a bad pitcher ... Save with Brewers 1B Adam Lind ($4,000) vs. Odrisamer Despaigne. Also consider Lind's teammate, 2B Scooter Gennett ($2,900) ... Padres SS Alexi Amarista ($2,700) has been leading off and hitting well ... A cheap 3B/OF option is Alex Guerrero ($2,600), if he plays.
There's not an ace SP on the night schedule, but Jason Hammel ($10,300) is probably worth the money. As weird as it sounds, you might want to consider Hammel's real-life opponent Chris Heston ($9,800) as the SP2. The rest of the starters are pretty bad ... A.J. Pierzynski ($3,900) will be either the third or fourth hitter in the Braves' lineup ... Mike Napoli ($3,600) is a budget-minded 1B option against the awful CC Sabathia ... Pay the premium for Twins 2B Brian Dozier ($4,800), who kills LHP ... Yankees OF Chris Young ($3,300) should be a lineup staple vs. LHPs ... Marlins 3B Derek Dietrich ($2,800) batted second on Wednesday, and has been hitting well. If you spend on the starters, he can help you save ... Twins OF Aaron Hicks ($3,700) has a .432 wOBA vs. LHP. He'll probably bat first or second against Mark Buehrle.
See you back here tomorrow morning.