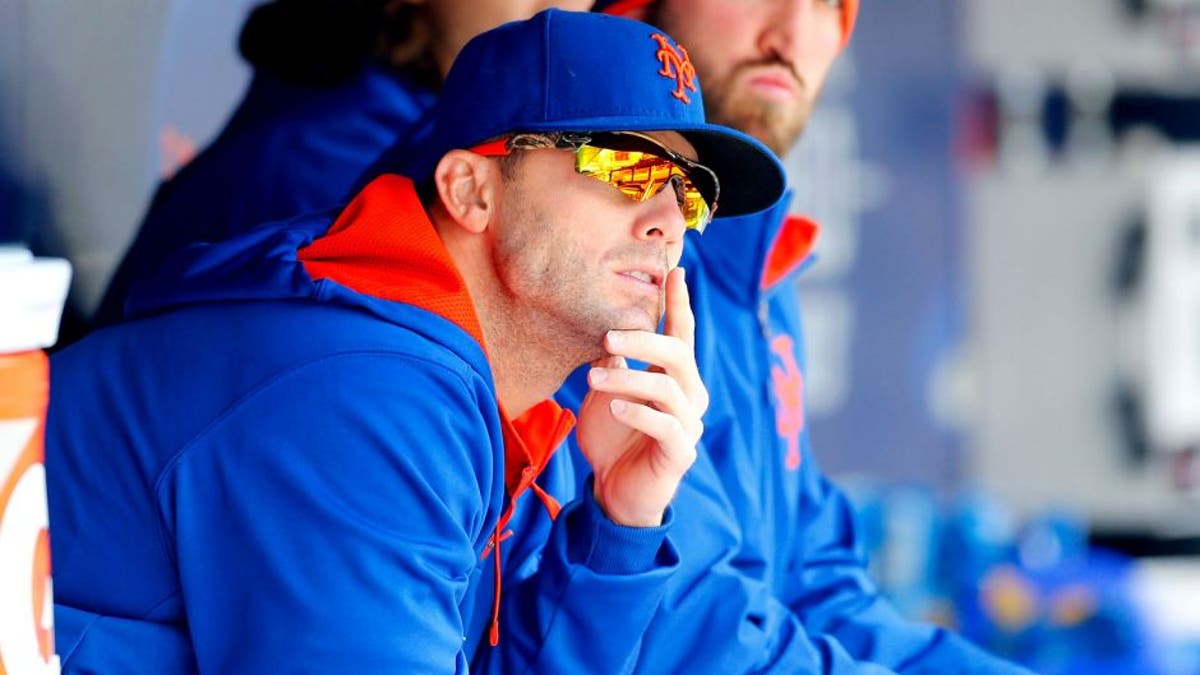 Mets 3B David Wright, who has been on the DL since mid-April due to a spinal column injury, will rejoin the team's lineup tonight in Philadelphia. Wright was 9-for-28 with five walks during his minor-league rehab assignment, but all nine hits were singles.
Wright is owned in 55.6 percent of FOXSports.com leagues, and it's hard to recommend adding him for the season's final six weeks. We don't know if he'll hit with power, but we do know he hit only eight home runs last season. Those in deeper mixed leagues can consider Wright if he's available, but pass on him in 12-teamers.
In other news ...
It sounds like Braves 3B Hector Olivera might spend at least a few more days in the minors, rather than getting called up today as reported last week.
Astros OF George Springer (broken wrist) is expected to take batting practice today or tomorrow, and could be ready for a rehab assignment this weekend. Remember Springer's 13 homers and 14 steals in the season's first 75 games? Man, they were fun.
Twins closer Glen Perkins (neck) returned to the mound on Sunday, instead of waiting until Tuesday as planned. Activate Perkins if you own him.
Wade Davis got Sunday's save for the Royals. After the game, manager Ned Yost said he was being "extra cautious" with closer Greg Holland, who saved Saturday's win. I think the job still belongs to Holland, but I wouldn't be happy if I owned him.
Tom Wilhelmsen saved Sunday's win for the Mariners, with Carson Smith getting four outs in the seventh and eighth innings. Smith thinks he might just be getting a "mental break" from closing, but managers' whims can be unpredictable with closers. If you want to speculate, Wilhelmsen is available in 99.8 percent of FOXSports.com leagues.
The Mets have placed 1B Lucas Duda (back) on the DL. Look for Mike Cuddyer to get most of Duda's at bats, with Kelly Johnson helping out as well.
The Dodgers have apparently benched Joc Pederson in favor of Kike Hernandez. Pederson hasn't hit a lick (.627 OPS) since the All-Star break.
A's RP Sean Doolittle gave up a couple of runs in his return to the mound on Sunday. The team isn't sure when Doolittle will return to the closer's role.
Yankees SP CC Sabathia appears headed to the DL with a knee injury. Michael Pineda will come off the DL to start on Wednesday, and take Sabathia's rotation spot.
Yankees 1B Mark Teixeira hasn't played since bruising his right leg last Monday, but the team is still calling him day-to-day. If you own Teixeira in a weekly league, lean toward benching him this week if you have a decent alternative.
Red Sox OF Jackie Bradley Jr. had three more hits on Sunday. He's batting .344 in August, with four home runs, 20 RBI, 18 runs and a 1.185 OPS. JBJ is owned in 17 percent of FOXSports.com leagues.
Look for 1B Ryan Howard to be back in the Phillies' lineup early this week, as they're facing the Met righthanders.
With Josh Harrison and Jordy Mercer back from the DL, the Pirates' infield has gotten very crowded. It sounds like Jung Ho Kang will keep playing just about every day.
Streaming starter update: Chris Bassitt was solid on Friday, Carlos Rodon brought the strikeouts again on Saturday, and our new BFF Raisel Iglesias delivered a one-run, 13-whiff outing on Sunday. Tonight's options aren't great, but if we need to pick someone, it's J.A. Happ (6.5 percent owned) at Miami.
DFS advice (based on 50/50 games, salaries from DraftKings): The Phillies aren't bad, but Jacob deGrom ($12,00) has averaged 27.4 DK points over his last six starts, so I'm paying up ... My favorite SP2s are Happ ($5,800) and Rockies LHP Jorge De La Rosa ($7,100), who has a 3.17 ERA on the road ... Yadier Molina ($3,300) has been hitting better lately ... Mets 2B/SS Wilmer Flores ($3,500) has crushed LHP for a .375 wOBA ... Flores' teammate, OF Juan Lagares ($3,100), has a .357 wOBA vs. LHP and often leads off against them ... Nelson Cruz ($5,300) against a terrible lefty is a must.
Scheduling note: The baseball posts here will be on a Monday-Wednesday-Thursday schedule through the end of the season. If you need to fill the gaps with questions, tweet me @jhalpin37. Thanks.