MLB Quick Hits: Jose Fernandez to DL, return in question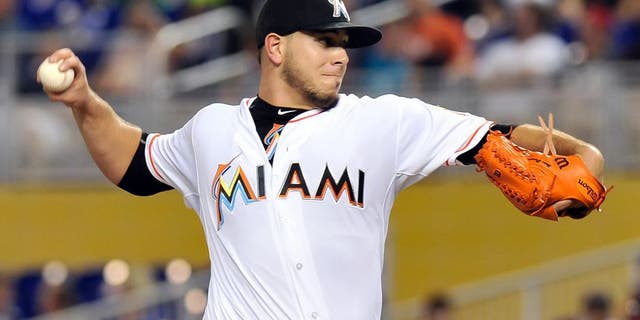 NEWYou can now listen to Fox News articles!
Marlins ace Jose Fernandez is 4-0 with a 2.30 ERA in seven starts since returning from Tommy John surgery. If you drafted Fernandez and waited, your patience was paying off ... until now.
Fernandez is headed to the DL with a biceps strain, and it's not clear when he'll pitch again. The diagnosis is better than it could have been, and while manager Dan Jennings said he'd like to see Fernandez back on the mound when healthy, he added that "we have to be smart of where we are in this season," and "there is no need to push it or rush it." Look for the Marlins to be cautious, and if you own Fernandez, you'll need to be patient for a little while longer.
In other news ...
Dodgers 2B Howie Kendrick left Sunday's game with a strained hamstring. Beat writer Ken Gurnick tweeted that the team is "preparing for an extended absence." Kike Hernandez is currently next on the team's 2B depth chart, but I wonder if Justin Turner might shift over there when he comes off the DL later this week.
In other Dodger news, does anyone out there still own Jim Johnson? If so, I hope you didn't watch last night.
Red Sox closer Koji Uehara got hit in the wrist by a line drive on Friday, and he'll have another exam today. Look for Junichi Tazawa to close while Uehara is out.
More Sox: Look for OF Mookie Betts (concussion) to return to the lineup on Tuesday.
Hard-throwing Tommy Kahnle saved Rockies' wins on Friday and Sunday. Kahnle is available in 99 percent of FOXSports.com leagues, and if you need saves you should absolutely pick him up. However, keep in mind that he's walked 19 batters in 28 2/3 innings this season. He's not exactly Craig Kimbrel just yet.
With Michael Bourn shipped off to Atlanta, Abraham Almonte has played center field in two straight games for the Indians, and hit a home run on Sunday. Almonte has decent speed, but shouldn't be considered beyond AL-only leagues.
Mets 3B David Wright begins a rehab assignment today and could be about 10 days away from a return, while OF Michael Cuddyer is expected to be activated today. Everything is coming up Mets these days, isn't it? Interesting Cuddyer-related note from the New York Post: The Mets are likely to face five lefty starters over the next week. Cuddyer - if healthy, of course - is a lefty killer.
Nationals 1B Ryan Zimmerman hit two home runs on Sunday, and is batting .318 with 10 RBI in 13 games since coming off the DL. Zimmerman is owned in just 58.5 percent of FOXSports.com leagues, and has 1B/3B/OF eligibility.
Angels SP Jered Weaver whiffed seven batters in five innings in his return from the DL on Sunday. Before you get excited, remember that he still throws fastballs in the mid-80s. Or maybe it's mid-40s.
Streaming starter update: Aaron Nola was just OK on Friday, Tom Koehler was his usual mediocre self on Saturday, and Jimmy Nelson was fine on the WHIP/K front despite allowing four runs on Sunday. Tonight's pick has to be Mets' lefty Jon Niese (16.1 percent owned) against the Rockies, who have a .297 road wOBA and baseball's highest strikeout rate when they're away from home.
DFS advice (based on 50/50 games, salaries from DraftKings): Niese ($6,800) is a no-brainer. My other starter is probably Chris Sale ($12,000), but if you'd like to go with Johnny Cueto ($10,300) or Sale's opponent, the scalding-hot Matt Shoemaker ($8,400, averaging 30.2 DK points over his last three starts), I won't argue ... Go with Padres C Derek Norris ($3,400) vs. a LHP, even though he hasn't been great against them this season ... I like Rubby De La Rosa, but lefthanded hitters crush him. You're up at 2B, Chase Utley ($3,000) ... Ian Desmond ($3,300) has been heating up lately ... Nationals OF Jayson Werth ($2,900) homered Sunday for the first time since coming off the DL, and faces lefty Brett Anderson. Werth has a .396 career wOBA vs. LHP ... It's a DFS rule that you have to play Nelson Cruz ($5,100) vs. a LHP, right?
See you back here tomorrow morning.