MLB Quick Hits: DL for Indians' Carrasco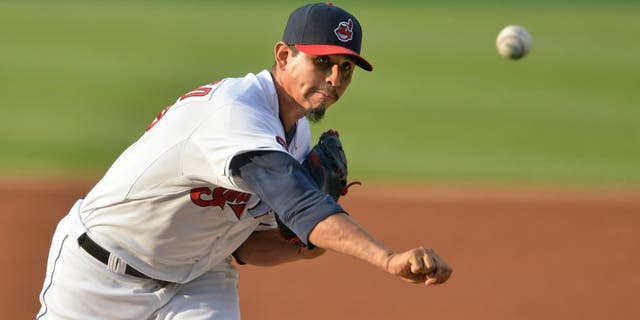 Indians SP Carlos Carrasco is on the DL with a sore shoulder. Manager Terry Francona said that the issue is bursitis, and added: "He'll be down for four or five days. Then he'll start throwing again. By all accounts, from talking to the doctor, he'll be fine ... He just had some inflammation in there. This will knock it out and he'll be good to go."
The earliest Carrasco can return is Sept. 6. It's tough to wait on anyone at this time of year, but you should lean toward doing so with Carrasco if your roster reasonably allows it. Carrasco ranks ninth in strikeouts (173), T-12 in wins (12) and 14th in WHIP (1.06), and owns a 3.53 ERA that has been on the decline lately. He has allowed a total of six runs over his last five starts, with 40 strikeouts against six walks in 39 2/3 innings.
In other news ...
Hanley Ramirez is working on a move to first base next season, or possibly even later this season. For fantasy purposes, he'll still be OF-eligible in 2016.
Stephen Strasburg is back, baby. In four starts since coming off the DL, he's allowed five runs while whiffing 32 batters and walking three in 26 innings. For the sake of Strasburg's fantasy owners, let's hope he can stay healthy for six more weeks.
In other Nats' news, Denard Span was back in the lineup Tuesday after a seven-week absence. Start Span if you need his runs and steals.
Tom Wilhelmsen, who is owned in 0.8 percent of FOXSports.com leagues, got his second save in three days on Tuesday. Get on board while you can, folks.
Or, you could pick up new Yankee star reliever Brendan Ryan, who threw two scoreless innings last night. Someone told me he's also a shortstop.
Giancarlo Stanton says he's "about a week and a half" away from coming off the DL.
In other Marlins' news, 2B Dee Gordon stole four bases on Tuesday. If Billy Hamilton stays on the DL for the rest of the season, do you think Gordon will make up the nine-steal gap between them?
Dodgers C Yasmani Grandal (bruised shoulder) is expected to miss another game today, but probably won't need a DL stint.
Rangers 2B Rougned Odor left Tuesday's game after losing the fingernail on the middle finger of his right hand. Honestly, it hurt just to type that. Consider Odor day-to-day.
Giants OF Angel Pagan (knee) had two hits and two walks in a Tuesday rehab game. Pagan is supposed to play another minor-league game today, but maybe the Giants will change their minds and get him on a plane from Omaha this morning.
With Johnny Giavotella on the DL, Grant Green played second base Tuesday for the Angels, but left the game after injuring a tendon in his right knee. Green think's he'll play tonight. In AL-only leagues, Green is just a warm body.
There are two afternoon games on today's schedule: Astros-Yankees at 1:05 p.m. ET, and A's-Mariners at 3:40. Set your lineups accordingly.
J.A. Happ was strong as Monday's streaming starter, throwing six shutout innings. Tonight's pick is Dodger lefty Brett Anderson (8.7 percent owned) against the struggling Reds, who have a .667 OPS in August. Anderson is just OK, but he induces tons of ground balls, which is helpful at Cincinnati's homer-happy Great American Smallpark.
DFS advice (based on 50/50 games, salaries from DraftKings): Plenty of strong aces on the board, but Chris Sale ($13,000) is the most dominant ... My preferred SP2 is Jimmy Nelson ($8,400), who has averaged 20 DK points over his last 10 starts ... Padres C Derek Norris ($2,900) is always a solid option vs. a mediocre LHP ... So are Dodgers 2B/SS Kike Hernandez ($2,600) - if he bats high enough in the order - and Cubs 2B/OF Chris Coghlan ($3,000) ... Interested in a short-term hot bat? White Sox OF Trayce Thompson ($2,500) has 39 DK points in his last two games, and has 12 hits in 23 at bats since getting called up from the minors ... BvP alert: Melky Cabrera ($3,400) is 12-for-22 against Rick Porcello.
See you back here tomorrow morning.