MLB postseason odds: World Series champ, MVP & matchups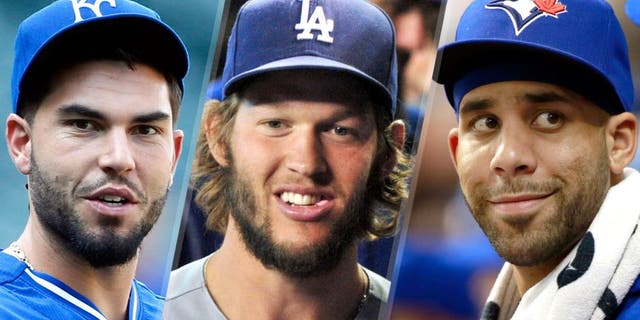 NEWYou can now listen to Fox News articles!
The 2016 MLB postseason is here.
Who will win it all?
Who will be the World Series MVP?
Who will meet in the Fall Classic, which will be televised by FOX starting on Tuesday, Oct. 27?
Below are those odds and some others courtesy of sportsbook.ag.
These were the odds an hour before first pitch of Tuesday's AL Wild Card Game. (Complete postseason schedule)
WORLD SERIES CHAMP
3.25 to 1: Blue Jays
4.5 to 1: Royals
5.5 to 1: Dodgers
6.5 to 1: Mets
7.5 to 1: Cardinals
8 to 1: Rangers
9 to 1: Cubs
12 to 1: Pirates
14 to 1: Astros
16 to 1: Yankees
WORLD SERIES MVP
18 to 1: Clayton Kershaw, Dodgers
18 to 1: David Price, Blue Jays
18 to 1: Josh Donaldson, Blue Jays
20 to 1: Andrew McCutchen, Pirates
20 to 1: Edinson Volquez, Royals
20 to 1: Eric Hosmer, Royals
20 to 1: Jake Arrieta, Cubs
20 to 1: Kris Bryant, Cubs
20 to 1: Zack Greinke, Dodgers
25 to 1: Colby Lewis, Rangers
25 to 1: Curtis Granderson, Mets
25 to 1: Edwin Encarnacion, Blue Jays
25 to 1: Jose Bautista, Blue Jays
25 to 1: Kendrys Morales, Royals
25 to 1: Prince Fielder, Rangers
30 to 1: Adrian Beltre, Rangers
30 to 1: Adrian Gonzalez, Dodgers
30 to 1: Dallas Keuchel, Astros
30 to 1: Daniel Murphy, Mets
30 to 1: Jason Heyward, Cardinals
30 to 1: Jhonny Peralta, Cardinals
30 to 1: Jimmy Rollins, Dodgers
30 to 1: John Lackey, Cardinals
30 to 1: Jose Altuve, Astros
30 to 1: Lucas Duda, Mets
30 to 1: Matt Carpenter, Cardinals
30 to 1: Matt Harvey, Mets
30 to 1: Mike Moustakas, Royals
30 to 1: Yasiel Puig, Dodgers
35 to 1: Gerrit Cole, Pirates
40 to 1: Anthony Rizzo, Cubs
40 to 1: Brett Gardner, Yankees
40 to 1: Carlos Beltran, Yankees
40 to 1: Colby Rasmus, Astros
40 to 1: Dexter Fowler, Cubs
40 to 1: Evan Gattis, Astros
40 to 1: Francisco Cervelli, Pirates
40 to 1: Masahiro Tanaka, Yankees
40 to 1: Mitch Moreland, Rangers
40 to 1: Starling Marte, Pirates
50 to 1: Alex Rodriguez, Yankees
WORLD SERIES MATCHUP
6.5 to 1: Dodgers vs. Blue Jays
7 to 1: Dodgers vs. Royals
7 to 1: Mets vs. Blue Jays
8 to 1: Mets vs. Royals
9 to 1: Cardinals vs. Blue Jays
10 to 1: Cardinals vs. Royals
12 to 1: Dodgers vs. Rangers
13 to 1: Mets vs. Rangers
15 to 1: Cubs vs. Blue Jays
15 to 1: Pirates vs. Blue Jays
17 to 1: Cardinals vs. Rangers
17 to 1: Cubs vs. Royals
17 to 1: Pirates vs. Royals
23 to 1: Dodgers vs. Yankees
25 to 1: Cubs vs. Rangers
25 to 1: Dodgers vs. Astros
25 to 1: Mets vs. Astros
25 to 1: Mets vs. Yankees
25 to 1: Pirates vs. Rangers
30 to 1: Cardinals vs. Yankees
35 to 1: Cardinals vs. Astros
50 to 1: Cubs vs. Yankees
50 to 1: Pirates vs. Yankees
55 to 1: Cubs vs. Astros
55 to 1: Pirates vs. Astros