MLB interviewing players, clinic founder as part of drug probe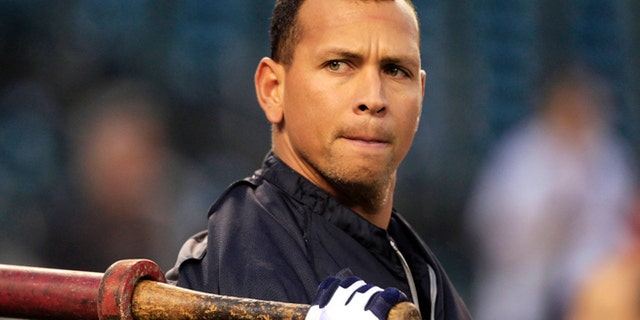 The union for Major League Baseball says management is now interviewing players linked to a Miami anti-aging clinic that allegedly sold performance-enhancing drugs and has become the focus of an ongoing investigation.
Clinic founder Anthony Bosch has agreed to talk with MLB, according to numerous reports, and union head Michael Weiner said the commissioner's office has assured the union that "no decisions regarding discipline have been made or will be made until those interviews are completed."
"It would be unfortunate if anyone prejudged those investigations," Weiner said in a statement Wednesday.
Alex Rodriguez, Ryan Braun, Nelson Cruz and Melky Cabrera are among the players whose names have been tied to the now-closed clinic, called Biogenesis of America.
Major League Baseball, according to earlier reports, is preparing to suspend about 20 players with connections to Bosch's clinic.
One source familiar with the case told ESPN that the commissioner's office may seek 100-game suspensions for Rodriguez, Braun, and other players, which is the penalty for a second doping offense. The players' connection to Bosch would constitute one offense and prior statements to MLB officials denying the or the use of PEDs would constitute another, the network's source said.
Information that Bosch provides MLB on players who came to the now-closed Biogenesis of America clinic could lead to suspensions.
In addition to Rodriguez, New York Yankees teammate Francisco Cervelli also was linked to the clinic. Cervelli said he consulted Biogenesis for a foot injury, but didn't receive any treatment.
"We'll let MLB handle everything and we don't really have a comment," Yankees manager Joe Girardi said after a 4-3 win over Cleveland.
Girardi said the Yankees were still planning on Rodriguez rejoining the team after the All-Star break. The star third baseman has been on the disabled list all season.
As for the drug cloud that has hovered over baseball for years, Girardi said: "I think we all had hoped we'd gotten through it. But obviously, we haven't."
Yankees outfielder Vernon Wells said it was too soon to draw any conclusions.
"Everything right now is speculative," Wells said. "We can all sit here and wonder."
MLB has sued Biogenesis of America and its operators, accusing them of scheming to provide banned PEDs to players in violation of their contracts.
Miami New Times reported in January that it obtained purported records detailing drug purchases by Rodriguez, Cabrera, Cruz and former AL Cy Young Award winner Bartolo Colon.
Yahoo Sports reported that Braun, the 2011 NL MVP, was mentioned in the records.
Most have denied the Biogenesis link, although Rodriguez has admitted using performance-enhancing drugs earlier in his career and Colon and Cabrera each were suspended for 50 games last year for testing positive for elevated testosterone levels.
Braun failed a drug test in 2011, but his suspension was overturned by an arbitrator. He has acknowledged that he was mentioned in Biogenesis records because his lawyers had used Bosch as consultant during the appeal.
After the Brewers' 4-3 win in 10 innings over Oakland at Miller Park, Braun said he was done talking about the clinic.
"I've already addressed everything related to the Miami situation. I addressed it in spring training. I will not make any further statements about it," he said.
"The truth has not changed," he said.
Braun said the speculation was not affecting him on the field.
"No, of course not. I've dealt with this for two years now. I'm pretty good at avoiding distractions," he said.
The Associated Press and Sports Network contributed to this report.
Click here for more from ESPN.