MLB Hot Stove Tracker: Free agency, trades, rumors & news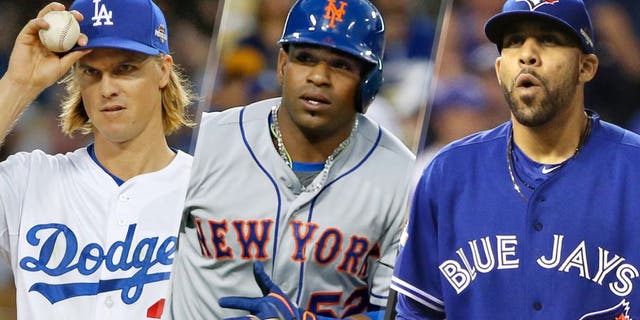 The regular season is long gone, and the Kansas City Royals have been crowned World Series champions.
And now the fun really begins.
Which free agents are going to break the bank? Which big-name stars are being dangled in trade talks? Which teams are looking to buy, and which are looking to rebuild?
We're tracking all of it, with help from our Insiders Ken Rosenthal and Jon Paul Morosi. Follow all of their tweets and all of the hottest industry buzz right here.
Tweets by @Ken_Rosenthal !function(d,s,id){var js,fjs=d.getElementsByTagName(s)[0],p=/^http:/.test(d.location)?'http':'https';if(!d.getElementById(id)){js=d.createElement(s);js.id=id;js.src=p+"://platform.twitter.com/widgets.js";fjs.parentNode.insertBefore(js,fjs);}}(document,"script","twitter-wjs");Tweets by @jonmorosi !function(d,s,id){var js,fjs=d.getElementsByTagName(s)[0],p=/^http:/.test(d.location)?'http':'https';if(!d.getElementById(id)){js=d.createElement(s);js.id=id;js.src=p+"://platform.twitter.com/widgets.js";fjs.parentNode.insertBefore(js,fjs);}}(document,"script","twitter-wjs");
The latest:
TUESDAY
● (2:13 p.m. ET): The Boston Red Sox pick up their 2016 option on RHP Clay Buchholz. Full story
● (1:24 p.m. ET): The Toronto Blue Jays pick up their 2016 options on RF Jose Bautista, 1B/DH Edwin Encarnacion and SP R.A. Dickey. Full story
● (3:53 a.m. ET): The Mets aren't expected to re-sign OF Yoenis Cespedes, who could be too pricey for them on the free-agent market, ESPN reports. Full story
● (3:53 a.m. ET): Free-agent 2B Daniel Murphy tells MLB.com that he'd like to return to the New York Mets, with whom he has spent his entire major-league career. Full story
MONDAY
● (8:38 p.m. ET): With the World Series in the books, 139 players officially become free agents. Among the biggest names: LHP David Price, OF Yoenis Cespedes, IF/OF Ben Zobrist, RHP Johnny Cueto and OF Jason Heyward. Full story