MLB commissioner Selig to resign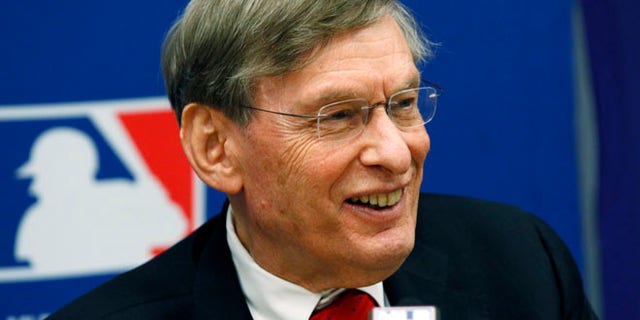 Bud Selig, who took over the role of commissioner of Major League Baseball in 1992, is set to announce that next season will be his last in the role, Fox News confirms.
The 79-year-old Selig has been most recently known for dealing with the sport's investigation of the closed anti-aging clinic Biogenesis, which is accused of distributing performance-enhancing drugs.
Over the summer, Selig was asked if the league was slow to respond to these drugs and he said, "We were not slow to react" and the sport is "cleaner then ever."
Selig said: "It remains my great privilege to serve the game I have loved throughout my life. Baseball is the greatest game ever invented, and I look forward to continuing its extraordinary growth and addressing several significant issues during the remainder of my term."
Selig said in 2003 that he would retire in 2006 but has repeatedly accepted new contracts in 2004, 2008 and 2012..
Some owners -- even his wife -- have been skeptical in the past that he really would do it, but this marked the first time he issued a formal statement that he intends to step down from the sport's top job.
"I look forward to continuing its extraordinary growth and addressing several significant issues during the remainder of my term," he said.
Selig said he will soon announce a transition plan that will include a reorganization of central baseball management.
He said he will leave on Jan. 24, 2015, which would mark the second-longest term for a baseball commissioner behind Kenesaw Mountain Landis, who served from November 1920 to November 1944.
Selig bought the Seattle Pilots in bankruptcy court in 1970 and moved the team to Milwaukee. He became a leading owner by the early 1980s in his role as chairman of the Player Relations Committee, which determined labor policy.
He was part of the group that forced Fay Vincent's resignation and he took over as acting commissioner on Sept. 9, 1992, in his role as chairman of the executive council.
While he presided over a 7 1/2-month strike in 1994-95 that led to the cancellation of the World Series for the first time in 90 years, MLB and its players have had labor peace since.
Although he repeatedly said he would not take the job full time, he was formally elected commissioner July 9, 1998. He turned running the Brewers over to his daughter Wendy, but the Selig family did not sell the franchise until 2005.
Owners have repeatedly praised his financial stewardship, which has led to record franchise values as shown by the $2 billion sale of the Los Angeles Dodgers in 2012. MLB revenues, which totaled $1.7 billion in 1992, are projected to top $8 billion this year, and the average player salary has tripled under his tenure to more than $3 million.
The Associated Press contributed to this report.