Missed shots doom Iowa State women in 55-44 loss to Florida State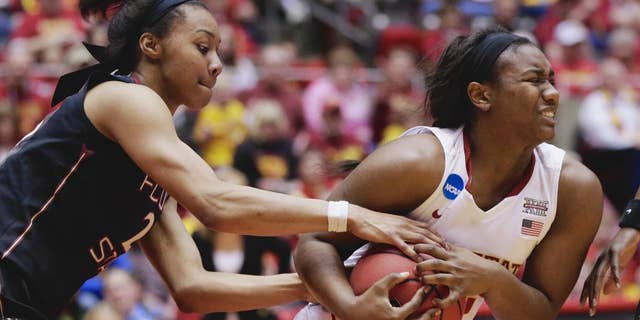 AMES, Iowa – Iowa State's lasting image of this year's NCAA tournament will be of balls spinning out of the basket or bouncing harmlessly off the rim.
For the Cyclones, it was not a pretty sight.
Natasha Howard had her school-record 15th double-double of the season with 10 points and 13 rebounds, and 10th-seeded Florida State defeated cold-shooting Iowa State 55-44 in the first round of the NCAA women's tournament on Saturday.
Iowa State, which lives and dies with its perimeter shooting, missed 15 of its first 16 shots and never recovered.
"It's a game where you've got to make shots. You've got to score the ball," Iowa State coach Bill Fennelly said. "We've got to figure out a way to do that better. It's the nature of the game. Unfortunately, when it happens in this environment, you're done."
Florida State (21-11) won its 11th straight tournament opener since 1991, prevailing in a game in which turnovers outnumbered field goals 44-36, and moved into a second-round game Monday night.
Hallie Christofferson scored 13 points in her final game for seventh-seeded Iowa State (20-11), which fell behind 14-2 and was never closer than six points after that. Brynn Williamson added 12 on four 3-pointers and Jadda Buckley had 10.
The Cyclones, playing on their home court, had their worst shooting performance of the season. Their 15 field goals were a season low, as was their 25.4-percent (in)accuracy. They were just 7 of 38 on 3-pointers (18.4 percent).
"We came out a little flat and we didn't hit our shots," Christofferson said. "They stepped up and made theirs. It comes down to making shots and we didn't make them."
There was little quibbling over the type of shots the Cyclones got. They would run a play perfectly — and then miss an open shot. Usually, it was a 3-pointer. But the Cyclones also missed layups and putback attempts.
"The playbook is fine. We ran our plays, we did what we needed to do," Williamson said. "The ball wasn't going in the basket. That's going to happen on any given day, but you don't have time for that in the first round, at home, in front of so many great people."
It was an especially frustrating day for point guard Nikki Moody and freshman Seanna Johnson, who were a combined 2-for-19 for the field and totaled just five points between them.
The Cyclones also had 19 turnovers and were outscored 30-14 in the paint.
"We couldn't make enough consecutive plays on either end of the floor to change the outcome," Fennelly said. "They were the better team today."
Cheetah Delgado had 10 points and six assists for the Seminoles, while Ivey Slaughter grabbed 13 rebounds.
Florida State led 30-18 at half, and Brittany Brown scored six straight points to push it to 38-23.
Williamson got Iowa State within 10 points with a 3-pointer that swirled around the cylinder before dropping, bringing some life to the Hilton Coliseum crowd. Neither team scored for almost four minutes before Williamson hit another 3 to cut it to 40-33 with 9 minutes left.
The Cyclones had a chance to make it a two-possession game with under 3 minutes left, but Buckley barreled into Slaughter along the baseline for an offensive foul and Florida State wrapped it up with free throws.
Florida State's 12-point halftime lead could have been greater had it not been for its 14 turnovers. The Seminoles finished with 25 but were saved by Iowa State's poor shooting.
Christofferson, twice chosen first-team all-Big 12, finished her career with 1,709 points and 796 rebounds. She received a standing ovation when Fennelly took her out of the game with 21.5 seconds remaining. He spoke to her and hugged her before she sat down.
"I told her that every single person who's standing up is standing up for what you've done for our school, and it had nothing to do with the points and rebounds," said Fennelly, his voice cracking. "It was the kind of kid she was. I thanked her for being the kind of person who wore the Iowa State jersey the right way."