Mired early by injuries, turning to youth, nowhere to go but up for NBA-worst Bucks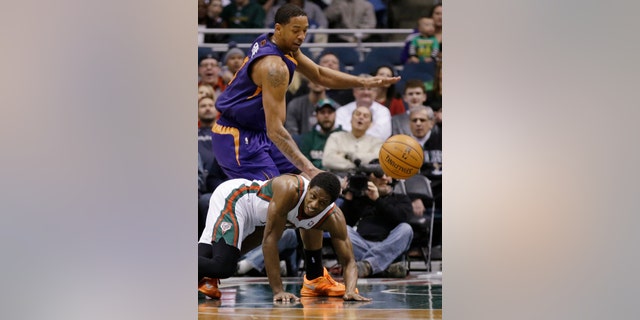 MILWAUKEE – After another double-digit loss, Bucks coach Larry Drew received encouraging words from Clippers counterpart Doc Rivers. It went along the lines of, "Hang in there, things will get better."
Really, it would be difficult for it to get much worse for Milwaukee, owner of the NBA's worst record.
Injuries from the outset disrupted the lineup. The team has transitioned to a full-fledged youth movement. A few veterans have voiced frustration with playing time.
"It's tough, but it's called a rebuild," Rivers said this week after Los Angeles' 28-point blowout of the Bucks. "It's hard on the coaches. Every night as a coach, you have to think you are going to win the game and it's hard."
Stopping to talk to an opposing coach usually isn't part of Drew's postgame routine. But Drew is good friends with Rivers, and the words meant a lot.
"I'll continue, moving forward, every game we play," Drew said after another loss, 126-117 to Phoenix on Wednesday. "But I will continue to take — even the negatives — I will try to find the positives from it and try to build and grow from that."
The Bucks were 8-37 entering Friday night's game against the Orlando Magic, the next worst team in the league with 12 wins. For now, Milwaukee has the best odds to get the top pick in the talent-rich NBA draft.
The Bucks have never called this a rebuilding year. Don't use the term "tanking" either.
"Simply, that's not the case," general manager John Hammond said in an interview. "If you look at our roster and some of the things we did, the players that we signed in the offseason — it was obvious that was not what we were looking to do."
Among the acquisitions was guard O.J. Mayo, signed to a three year, $24 million deal as a free agent. Veteran Caron Butler was acquired by trade to return to his hometown team.
They joined younger players led by promising center Larry Sanders, 25, signed to a four-year extension worth roughly $44 million.
They're among the players who have missed time due to injuries. Sanders missed about seven weeks with a thumb injury sustained in a nightclub scrum in November.
Drew has never had a steady roster. Lately, shooting has especially been problematic. Growing pains accompany the youth movement.
"But through the circumstances that we're in, we have made more of a commitment to play some young players and get them on the floor. But once again, this is difficult to go through," Hammond said. "And look, we're all looking for that opportunity to get the relief and get the wins, and as I said for people to feel good about themselves when they come to work."
As of Thursday, the Bucks were tied for second in the league with six overtime games, having gone 1-5.
But 2014 has been brutal. The Bucks were 1-13 in January, outscored an average of 15 points per game. There hasn't been enough offensive punch or consistency to get back into a game after opponents make a big run.
Center Zaza Pachulia, another offseason acquisition sidelined by injury, has tried to be a reassuring presence with Butler.
"First of all, hang in there. The last thing we want to do is quit or fragment," Pachulia said. "It's a process, nothing is given right away. You have to go and earn it."
When asked if he regretted how offseason moves were dampened by injuries, Hammond had no regrets.
"No, look you can't forsee what's going to happen in the future. At the time we made the moves, we thought it was the right thing to do."
The brightest spots have been the young guys, like first-round draft pick Giannis Antetokounmpo, the youngest player in the league at age 19. He has developed much quicker than anticipated, averaging 7.0 points and 4.7 rebounds per game.
Point guard Brandon Knight, acquired from Detroit in the offseason, has emerged as a scorer (16.1 points). But Knight is still developing as a distributor, and there are questions whether he's better suited to play shooting guard.
"The bright spots, look, these guys are getting an amazing opportunity to get on the floor and play the minutes that they're playing," Hammond said.
He said the team would do "due diligence" when asked how active the Bucks would be with the Feb. 20 trade deadline approaching. The most attractive players to move could be veterans like guards Luke Ridnour and Gary Neal.
____
Follow Genaro Armas at http://twitter.com/GArmasAP