'Minotauro' Nogueira on being tempted to fight again, his health, & Fabricio Werdum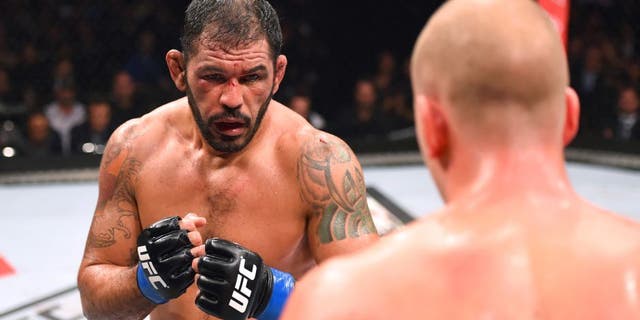 For years before MMA legend Antonio Rodrigo "Minotauro" Nogueira finally decided to retire, he knew he was on borrowed time. As he recently told The Underground's Jonathan Shrager, after a hip surgery in 2011, his doctor set a definitive clock on the former heavyweight champion's career.
"I was recovering from my hip surgery and the doctor gave me an amount of time left to fight, afterwards," Nogueira said. "He gave me four more fights. And, I did it," he laughed, mischievously (as seen in the video clip above).
"I did five."
UFC president Dana White had long expressed concern about the Pride and UFC champion's health after so many years in the ring, as well as injuries, knockouts, and surgeries. Nogueira said that after his last fight, White came up to him and offered him an alternative to fighting for a living.
"When that happened, Dana White followed. I was fighting at a very high level in the UFC ... so he was worried about my health," he recounted.
"And that's why we had the discussion. Dana White was saying 'he should retire.' And I was like, 'no,' I was fighting (laughing). The bottom line was that he was thinking about my health ... you're a warrior. Somehow you can work with me in the UFC. We have a big chair for you."
Ultimately, Nogueira agreed with White that he shouldn't continue warring in the cage. As badly as he wanted to continue, and felt he could, "Minotauro" didn't want to fight on in a diminished capacity.
"In my last fight I couldn't explode as much. Sometimes I had a chance to throw the guy, to close the distance, and I missed that distance because of my hips. Distance is everything, in a fight. When you lose your distance, you lose your timing," he explained.
"I want to be 100 percent of me. If I'm not there 100 percent, you know ..."
Now that he's not an active competitor, Nogueira is still keeping himself busy as a UFC employee and with helping training partners prepare for bouts. "I always keep training like an athlete," he said. "It's a lifestyle. I love that. I started judo when I was four years old, so I've had 35 years doing martial arts. I love that.
"I love to be around the fighters, training. That's my favorite thing."
Nogueira says he rolled with Anderson Silva before his most recent fight, and that he's helping his brother Rogerio prepare for his UFC 198 contest in May. All that time in the gym still keeps Nogueira tempted to fight again, however.
For example, when his Pride rival Mirko "Cro Cop" Filipovic was forced out of his last scheduled UFC bout, Nogueira lamented that an injured knee might keep him from replacing the kickboxer. "They said Cro Cop's fight is down. I thought, 'if I had a good knee, I could go replace him (laughs)," he remembered.
Nogueira keeps a watchful eye on the current MMA landscape, especially the heavyweight division that he once reigned over. In his mind, new champion and old opponent Fabricio Werdum is about as well-rounded as it gets.
"Fabricio is in the best prime, right now. He improved his stand-up a lot. He's having a pretty good wrestling camp right now. His jiu-jitsu we can say is one of the best. As a heavyweight he can submit, he can roll really good as a lightweight," he praised.
"I'm thinking, at this moment, he's one of the most complete fighters. He's got some hands, some Muay Thai. In this moment, he's more complete. You can see what he did with Cain Velasquez in his last fight. One of the best strikers in the game and he finished the guy."