Minnesota Vikings WR Stefon Diggs shows potential as return man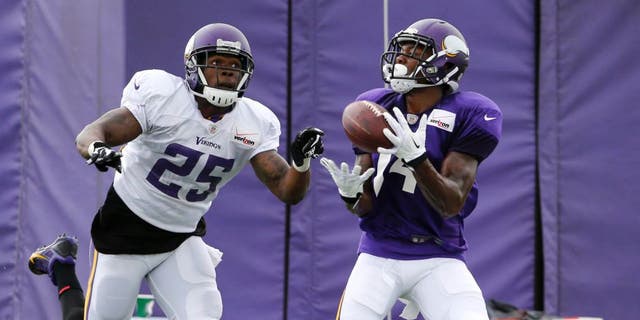 The Minnesota Vikings drafted Stefon Diggs in the fifth round of this year's draft mostly for his ability as a pass-catcher, but the team is quickly figuring out that he has some serious potential as a return specialist.
"He is catching punts better than he ever has," Vikings special teams coordinator Mike Priefer said of Diggs, via Brian Murphy of the Pioneer Press. "In college you don't have as much time to work on that stuff, so he came here with kind of a clean slate in terms of being a punt returner, kickoff returner, in terms of catching the ball.
"He's got all the talent in the world."
However, for Diggs to unseat sixth-year pro Marcus Sherels for punt-return duties, he'll have to be extremely impressive for the remainder of training camp, plus the preseason. Sherels might be the franchise's all-time best punt returner with a career average of 10.5 yards per return and two touchdowns.
Priefer commented on how hard it will be for Diggs to beat out Sherels for the job.
"Every year, whether it's playing punt corner or it's kickoff team, whatever the case may be, every year he's earned his job," Priefer said of Sherels, per the Pioneer Press. "That's why I respect him so much, because every year he's shown up and (been) ready to roll, and he's earned that spot."
The battle for punt-return responsibilities is just beginning to brew, as it's certainly one to keep an eye on for the rest of the summer.
(h/t Pioneer Press)