Minnesota Vikings' plane slides off Wisconsin runway, stuck for hours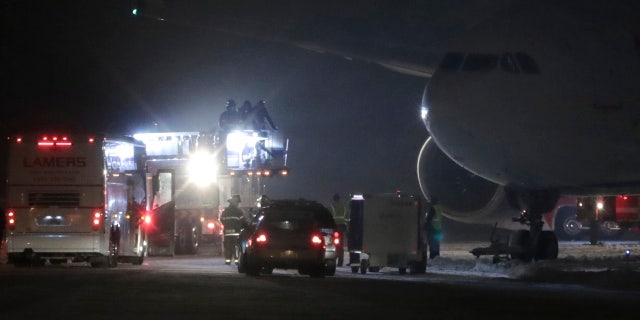 APPLETON, Wis. – The Minnesota Vikings' team plane slid off a Wisconsin runway in snowy conditions Friday and became stuck in the grass, leaving players waiting for hours to get off the aircraft.
A team spokesman said there were no injuries after the landing shortly after 5 p.m. Friday at Appleton International Airport. The Vikings will play the Green Bay Packers on Saturday.
Airport officials said that a rear wheel on the plane's landing gear slid off the taxiway amid snowy conditions, the Post-Crescent of Appleton reported.
The airport did not have a staircase tall enough to reach the doorway of the stuck plane. Firetrucks arrived to retrieve passengers , but only two could leave the plane at a time.
Airport officials posted on Twitter that the first buses left for the team hotel in Appleton around 10:15 p.m. The buses arrived at the hotel in downtown Appleton about 15 minutes later, less than 14 hours before kickoff at Lambeau Field.
About 20 fans, some wearing purple Vikings jerseys, waited for the first buses to pull up to the hotel while light snow fell. A few Green Bay fans also chanted "Go Pack Go" before buses arrived.
Players and coaches seemed to make the best out of the ordeal, posting video and messages on social media.
"After hours on the (plane) the fire department came to get us! Never been on a fire truck (before) if you can't tell," receiver Charles Johnson said on Twitter . "Got a little surprised."
The plane landed about 5:15 p.m. It was snowing much of the evening in Appleton, which is about 30 miles south of Green Bay.
The Vikings' official Twitter account reported shortly after 7 p.m. Friday that "while taxiing after a safe landing, the team plane slid off the runway and became stuck."