Miles, staff plans on overhauling offensive scheme during spring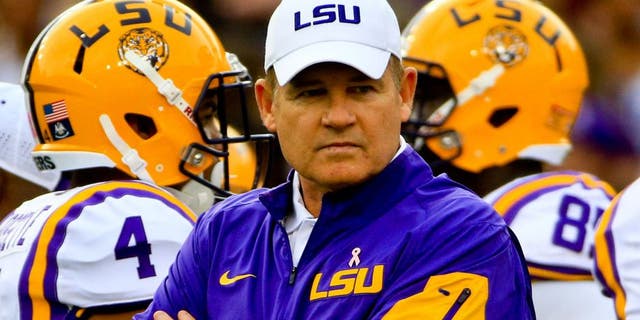 LSU's offense in 2015 was extremely potent when running the football. The smash-mouth system was led by a big, physical offensive line and arguably the most prolific running back in the country in Leonard Fournette.
While the ground game was immense, the passing attack was a different story.
Soon-to-be junior quarterback Brandon Harris was on an extremely short leash -- appearing as if LSU didn't have too much faith in him to deliver the ball down the field. As a result, LSU's offense became predictable, antiquated, and easy to plan against (especially against better competition).
In order to become more exotic and diverse in regards to play-calling, head coach Les Miles plans on shaking things up.
During a press conference on Wednesday (courtesy of The Advocate), Miles delved into his plan for the spring -- which includes emphasizing the passing game as a means to improve it. He also plans on traveling to other programs in order to study opposing offenses.
"If you do the same thing you've always done, it will be the same thing you've always been," said Miles. "We're going to change spring. It's going to be different."
Without question, LSU needs a shift in order to utilize its impressive collection of athletic receivers on the perimeter. If it can garner more overall balance, the Tigers figure to be a favorite within the conference in 2016.