Mike Zimmer defends Teddy Bridgewater, bashes Pro Football Focus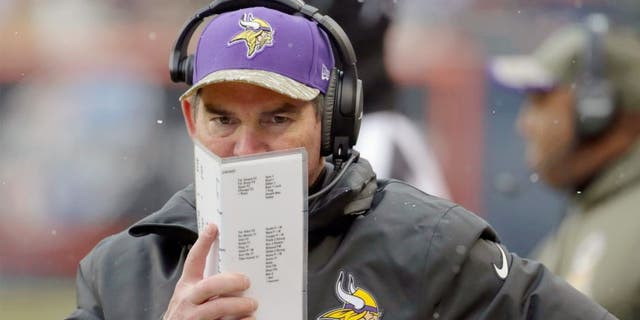 Minnesota Vikings head coach Mike Zimmer believes in Teddy Bridgewater, so he's not a big fan of the negative metrics floating around about his young quarterback.
After the Vikings' 38-7 loss to the Seattle Seahawks, popular analytics website Pro Football Focus Tweeted that Bridgewater has been pressured on a higher percentage of snaps -- 47.4 percent -- than any other quarterback in the NFL this season.
In Zimmer's opinion, this statistic doesn't tell the whole story.
"(Sometimes) they have quicks and sometimes they have deeper shots," Zimmer said, per John Holler of Scout.com. "Everybody has that. I don't know who the timer is at Pro Football Focus or anything like that who sits in England and times -- is this a scramble? Is this a get-it-out quick? Is this a quick throw? Is this a play action? I don't know. I don't worry about any of that stuff."
There's likely more than one reason behind Bridgewater's high pressure rate. Sometimes the pass protection fails, sometimes Bridgewater holds onto the ball too long and sometimes his receivers fail to get open. Zimmer has to find a way to fix all of these issues, because his passing offense currently ranks 31st in the league (179.1 yards per game).