Mike Perry crushes Jake Ellenberger with brutal elbow strike knockout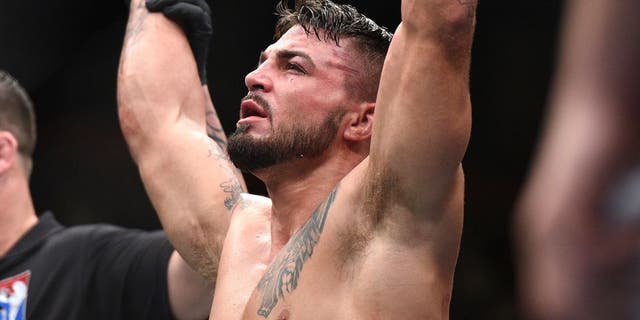 NEWYou can now listen to Fox News articles!
Mike Perry is starting to put together quite the highlight reel for his career.
The latest addition came on Saturday night as Perry absolutely demolished Jake Ellenberger with an elbow strike that flattened the veteran welterweight contender in the second round.
Perry had a lot to prove when he stepped into the Octagon after suffering his first career loss this past December when he fell to Alan Jouban.
Best known for his wild, brawling style, Perry came out with a much more controlled approach to the fight instead of just swinging for the fences as soon as the fight got underway.
Ellenberger was smart with his strategy as he swooped in for a takedown following the first exchange while staying quick on his feet when standing so he didn't stay in front of Perry's power punches.
To Perry's credit, he made an adjustment between rounds and came out with stinging left hand in the second round that clipped Ellenberger's chin and sent him down to the ground.
Perry followed up but rather than just going crazy with strikes, he started to look for the perfect shot to get the finish.
The end came when Perry closed the distance and unloaded with a right elbow strike that blasted Ellenberger in the face before he went unconscious and crashed to the canvas. Perry knew the fight was finished as he stopped himself from throwing another strike as the referee swooped into save Ellenberger from any further punishment.
Ellenberger actually remained on the ground for several minutes after the end of the fight, but he eventually made his way back to his feet before leaving the Octagon under his own power.
The win for Perry moved him to 3-1 in the UFC with his third victory by knockout and he followed the victory with an ominous threat to the rest of the welterweight division.
"I want to ask ya'll whose life you want me to ruin next?" Perry said.
As for Ellenberger, he drops to 1-4 over his past five fights with three of those losses coming by way of knockout or TKO.