Mike McCarthy not concerned with Rodgers' five picks in camp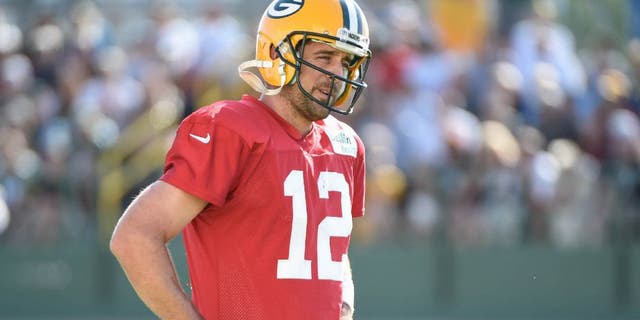 Green Bay Packers quarterback Aaron Rodgers is known for his squeaky-clean play. While racking up plenty of touchdown tosses, he hasn't posted a double-digit interception total since 2010.
However, so far in training camp, Rodgers has already matched the total number of interceptions he threw during the entire 2014 season -- five.
As sloppy as this sounds, Packers head coach Mike McCarthy isn't concerned. Although he certainly prefers them not to be thrown at all, he knows there's a big difference between throwing an interception during a game and throwing one during a training camp practice.
"I think like anything, whether it's fumbles, no excuse, interceptions, no excuse for them," said McCarthy, via Michael Cohen of the Journal Sentinel. "But they're graded different than they are in the game. You look at the interception, is it a decision? Is it the throw? Is it the receiver?"
Rodgers echoed McCarthy's sentiment, pointing to his past performance as evidence that he can be trusted to clean up his act once the throws actually mean something.
"I threw five last year in the regular season, so I know how to play in those games," Rodgers said, per the Journal Sentinel. "Practice is about -- it's different plays. The playbook is exponentially larger than the regular season, game-week plan. So we're trying different things. There's different guys out there running routes who might not be in there when it is the actual game time.
"So you make different throws, you're working through different plays. Sometimes the defense makes the plays."
With Rodgers coming off his second MVP season, any concern about his interceptions in practice is probably overblown.
(h/t Journal Sentinel)