Mike McCarthy has 'no concern' about Rodgers' availability for Sunday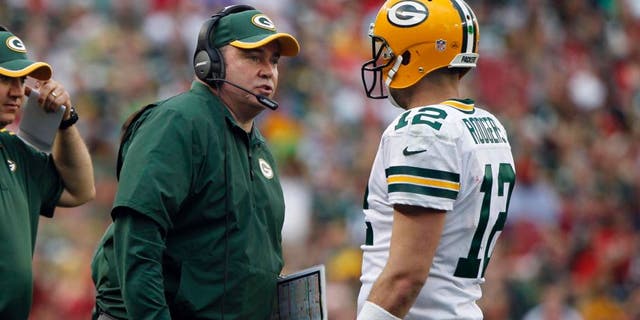 Packers head coach Mike McCarthy (left) is confident that Aaron Rodgers will play against the Vikings. Kim Klement USA TODAY Sports
Green Bay Packers quarterback Aaron Rodgers is listed on this week's injury report with a right shoulder injury. Although the injury limited him in practice, Packers head coach Mike McCarthy is not worried about Rodgers' availability for Sunday's matchup with the Minnesota Vikings.
If there's one player the Packers can't afford to lose it's Rodgers. The team is already struggling on offense with receivers who can't get open and backs who can't find room to run. It's difficult to imagine how bad Green Bay would look without an All-Pro playing quarterback.
Rodgers has put together gutsy performances while injured before. The Packers (6-3) need him now more than ever, since they're currently trailing the Vikings (7-2) by one game in the NFC North. A win would give Green Bay a valuable leg up in the race for the divisional crown, which is just starting to heat up.
MORE NEWS: Want stories delivered to you? Sign up for our NFL newsletters.