Miggy forgets to put on his glove, still records out on botched pick-off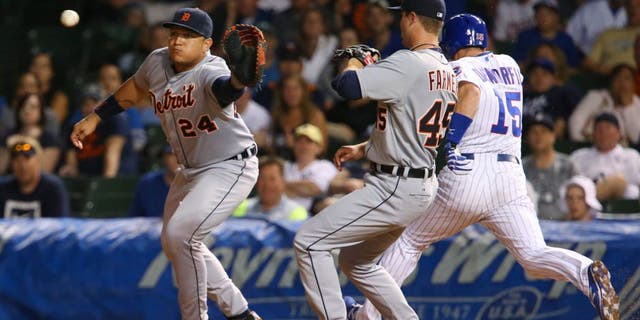 How good is Miguel Cabrera? He can make one of the biggest brain farts in recent memory, make his manager wonder if he's even paying attention to the actual game, commit what appears to be a surefire error ... and ultimately get an out on the play.
And that was the Tigers' first play on defense!
With Cubs leadoff man Dexter Fowler on first base following a single, Tigers pitcher Anibal Sanchez tried to pick Fowler off first base. Instead, the ball appeared to deflect off Cabrera's glove and head toward the brick wall along the first-base stands at Wrigley Field.
The ball kicked right back to Cabrera, who picked it up, turned and threw a strike to shortstop Jose Iglesias, who tagged Fowler out with plenty of room to spare.
Sound confusing enough? It gets even better when you watch it in the video above. Turns out the ball initially got away from Miggy because the 2012 AL Triple Crown winner wasn't wearing his glove when Sanchez threw to first, despite the fact Cabrera was standing at the bag, holding Fowler on.
Instead, Cabrera was just holding the glove and seemed a little surprised the ball was actually coming toward him. He appeared to open it with both hands as if to catch the ball in the expanded webbing, but ultimately moved out of the way of the ball and threw his glove at it.
Ultimately, Miggy and his Tigers got the job done, beating the Cubs 10-8.