Miesha Tate survived 10 years in MMA by staying 'true to my heart and passion'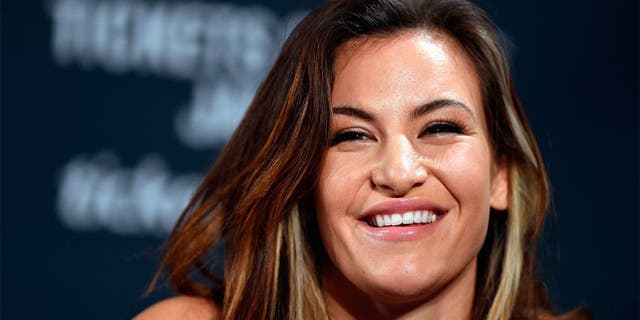 Miesha Tate is enjoying her time as the new women's bantamweight champion of the world following her submission victory over Holly Holm at UFC 196.
The victory came just a few weeks before Tate celebrated her 10 year anniversary as a mixed martial artist. On Friday, Tate officially marked off a decade on the calendar since she first started fighting.
While Tate is standing on top of the world right now, she actually fell short in her first fight. Tate fell to Elizabeth Posener by TKO in the second round in her debut amateur fight on March 25, 2006.
"10 years ago today I began my journey in MMA," Tate wrote on Instagram. "I lost my first fight due to getting my nose smashed clean in. I kept fighting through it until the round was over as you can see in the photo. Although I wanted to I was not allowed to continue for round three. I was disappointed in myself and I knew I could do better.
"There was no future in WMMA then, no money and no opportunity. I just had love and passion. As soon as my nose was healed I was straight back in the gym to prove I could be better."
Tate made her professional debut a little over a year later and she actually suffered another setback while taking part in a one-night tournament in a Midwest promotion called Hook 'N' Shoot.
She actually won her first fight but then suffered a brutal knockout courtesy of MMA veteran Kaitlin Young in her second bout later that same night.
"I won 6 fights in a row. I fought in a tournament for my pro debut, beat Jan Finney, lost to Kaitlin Young via KO in the same night," Tate said. "I was heartbroken, but determined. I got back into the gym."
That roller coaster ride continued for Tate all the way through her career in Strikeforce where she finally reached the pinnacle of the sport by becoming bantamweight champion with a win over Marloes Coenen. Unfortunately, Tate's celebration was short-lived after meeting a rising star named Ronda Rousey for the first time.
A pattern evolves in Tate's description of her career -- for every high she's suffered another low, and then fought her way back again.
"Won my first fight in Strikeforce against Elaina Maxwell and went on a 5 fight win streak. Lost to Kaufman. kept fighting, won 5 fights. I captured the Strikeforce Title against Marloes Coenan. Lost it to Ronda Rousey. Won against Julie Kedzie. Lost my debut in the UFC to Cat Zingano. I was devastated. I got back into the gym. I fought Ronda again, lost. I was absolutely crushed. I got back into the gym," Tate said.
"I won 4 fights in the UFC. I stayed in the gym."
Finally just a couple of weeks ago Tate climbed to the top of the mountain with the victory over Holm as she became UFC champion for the first time.
Needless to say through victory or defeat, Tate is always ready to get back to training because that's what got her to the top in the first place. And that's exactly what happened once UFC 196 was over.
"On March 5th, nearly 10 years later I won the UFC world title. I am back in the gym," Tate said. "I am happy. It's been a long journey with many obstacles, but I stayed the course, I stayed true to my heart and my passion.
"Thank you to everyone who has been on this long journey with me namely Bryan Caraway, who has been there through all of this.