Miesha Tate staying retired but Ronda Rousey trilogy still intriguing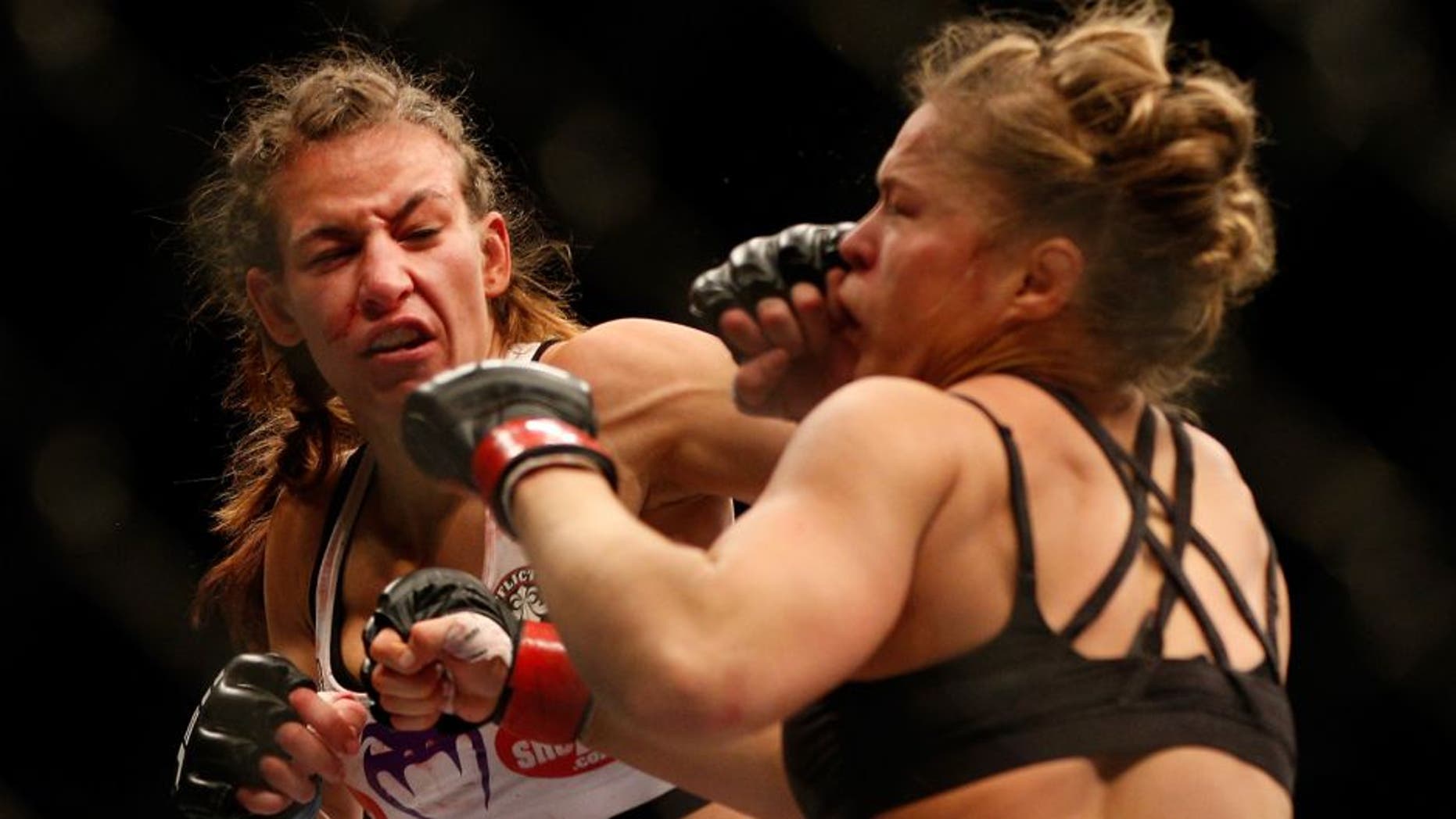 Miesha Tate has no regrets about making her decision to retire from fighting last year, but admittedly there's still one matchup that would be enticing if she was ever going to return.
Tate spent a huge part of the last few years of her career embroiled in arguably the greatest rivalry in women's mixed martial arts history with former champion Ronda Rousey.
Tate fell to her longtime rival on two different occasions but it appeared she was primed to get a third shot until Holly Holm shocked the world by knockout Rousey out in November 2015.
Tate ultimately submitted Holm to win the title a few months later, but Rousey remained out of action until she finally returned this past December where she suffered a loss to Amanda Nunes at UFC 207.
Now four months removed from her retirement from the sport, Tate is happy with her decision but can't deny that another shot at Rousey would be awfully hard to turn down.
"No plans to come out of retirement. It's just that if -- hypothetically if I was going to [fight again] which I'm not -- but if I was, that's the fight I would want," Tate said at the UFC Fight Night in London Q&A on Friday. "That's the only fight that appeals to me, that would maybe be interesting. But I think I'm past that point in my career. I'm ready to transition on to the next.
"If I was going to come back, that would be the fight that would appeal to me the most. But at the moment, I'm sorry it's not what I see in my future. I love that I'm able to do more of this and connect more with the fans. Obviously, if I was here fighting this weekend I wouldn't be here doing this. So there's pros and cons."
When she retired, Tate's resume was second to none when it comes to the history of women's mixed martial arts.
She's one of only two women to hold both the UFC and Strikeforce women's bantamweight titles (the other being Rousey) and Tate routinely fought a who's-who list of potential Hall of Fame candidates throughout her career.
Of course, Tate's accomplishments don't erase the losses to Rousey but she doesn't dwell on what she didn't do and prefers to focus on the many great things she accomplished throughout her career.
"They're still losses and I would have liked to have the opportunity to avenge them but I can look at them two ways," Tate explained. "Either the glass is half full or the glass is half empty. I'm looking at the glass half full. Being proud of what I did and what I was able to accomplish in my 11-year career.
"There's some things I would have liked to accomplish but we just didn't get it done in time. I'm just trying to stay positive about the things that I did instead of dwell on the things I wasn't able to."
Ultimately, Tate is resigned to her decision to call it a career and she's proud of everything she did as one of the true pioneers of women's MMA.
"I had a long career, especially for a female, fought for 11 years and now I've transitioned to other ways of enjoying the sport," Tate said. "It's not all bad."