Miesha Tate reveals the exact moment she decided to retire from MMA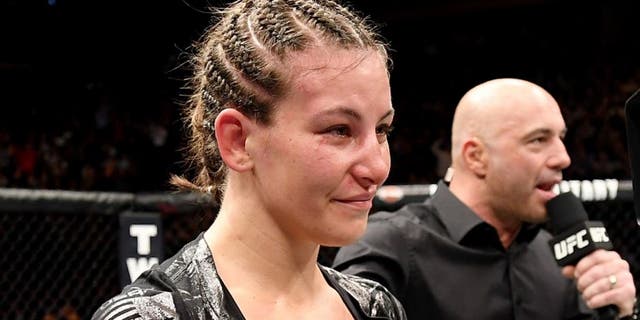 When Miesha Tate stepped into the Octagon at UFC 205 to fight Raquel Pennington she had no plans to retire.
The former UFC and Strikeforce women's champion was actually ready to climb back into the title hunt with a win, but Tate says it only took a few punches thrown in the first round to let her know that she just didn't want to do it anymore.
"Honestly, I just knew after the first exchange that I just didn't want to do it anymore," Tate said in Australia this week. "So it was kind of one of those things, it's like stuck it out, and I knew I had a lot more to give and I just didn't give it. I don't know. It's just one of those things, it's kind of odd to be honest. Just lacking a little bit of the competitive edge to want to punch people in the face."
According to Tate, following that initial exchange with Pennington she knew in her head that it was time to call it a career, but she wasn't about to give up in the cage during her last fight.
Tate says her decision to retire was very much spur of the moment and didn't come along with any kind of advance planning, but she knew after the fight that it was the right time to make the announcement.
"I don't give up but that's all. I didn't want to give up so I went in there but I just couldn't pull out of myself what I needed to really make the fight winnable so it's interesting," Tate said.
"I just look at it as something that it happened. I think my management would have appreciated it if I would have waited, but I just knew it so I just wanted to get it off my chest. I planned on winning that fight and going on for another title run, but the end of that (fight) I just knew."
Following the conclusion of the fight, UFC president Dana White asked Tate to go to the hospital to get checked out, which led to a heated encounter with the former champion.
White revealed at the UFC 205 post-fight press conference that Tate really didn't want to go get checked out at the hospital, but eventually cooler heads prevailed and she conceded to get medical attention.
"I was pissed. I didn't want to go to the hospital because I was fine. I knew I was fine," Tate said. "They didn't make me go to the hospital after I fought Amanda (Nunes) and she knocked my block off. If any time I should have gone to the hospital, it probably should have been then but there really wasn't anything that happened in the fight with Raquel that I feel was hospital deeming worthy so it just pissed me off because I have an after party to go to, my friend's here, I'm in New York City. I do not want to spend a couple hours in the ER.
"I've been doing this long enough to know I didn't need to go."
As far as her career goes, Tate says she has no regrets about her decision to retire, but of course there were always going to be fights and opportunities left unsettled due to her abrupt exit from the sport.
Thankfully, Tate says she's still going to fill her time with competition -- it just won't be stepping into the Octagon to fight another top ranked opponent.
"There's still more that I would have liked to accomplish. I never think that I would have been feeling like I did it all ever. There's always someone else to fight, someone else to beat. But I look back on it fondly," Tate said. "I think that it was a great run and I spent over half my life doing contact sports.
"I'm still going to be doing grappling and things like that. I actually have a grappling match coming up Dec. 11 against Jessica Eye so that will be for Chael Sonnen's show and I'm excited to do that."
Tate wouldn't be the first fighter to retire and then make the decision to fight again, but right now it appears she's happy with her decision. Of course, Tate also prefers not to use the word retirement when describing her exit from the fight game.
"You never know but at this point it's not something I'm thinking about," Tate said about a potential return to the sport.
"I prefer the term transitioned. Just transitioned to promoting events and still want to be involved, you might see more of me now so it's been good so far. Life is good."