Miesha Tate: It's 'offensive' that Dana White is 'just counting me out'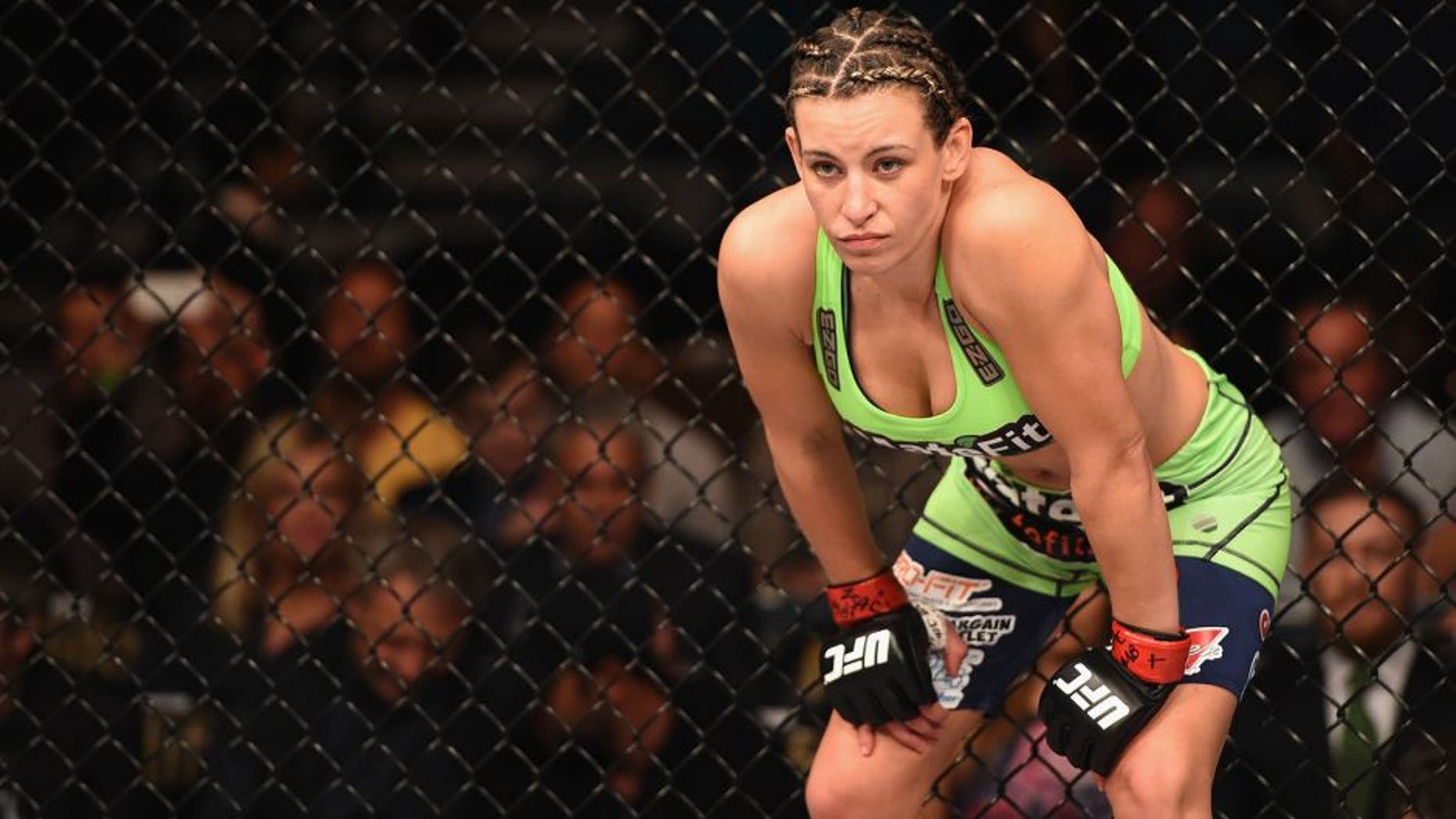 Miesha Tate was on top of the world less than two months ago after knocking off Jessica Eye to win her fourth consecutive fight, with three of those victories coming against top-10 opponents.
The win put Tate directly back in line for another shot at UFC bantamweight champion Ronda Rousey, and immediately after the event she was declared the new No. 1 contender. Rousey even addressed Tate's title shot a week later, following her win at UFC 190, and it appeared like a foregone conclusion that the rivals would meet for a third time in less than four years.
Tate remains the only fighter to push Rousey past the first round and arguably gave her the toughest challenge of her career in their initial meeting when she escaped the Olympian's signature armbar while taking her back in a fast and furious one-round exchange.
But the bottom fell out from Tate's dream to avenge those previous losses when the UFC declared Holly Holm as the new top contender. Now, Rousey and Holm will meet in November at a stadium show in Australia expected to break the all-time attendance record for the promotion.
Tate found out by reading the news online, which only disheartened her further. The UFC didn't bother to tell her personally, she says, much less explain why she wasn't receiving the title shot she was promised.
UFC president Dana White said on "UFC Tonight" a week ago that Tate's falling to Rousey for a third time would be extremely detrimental to her career and she would have to win a few more to justify a trilogy with the champion.
"Miesha, at this point in her career, if she loses to Ronda Rousey a third time, it's a career-killer," White said.
On Wednesday, Tate finally had the chance to respond on the latest episode of "UFC Tonight," where she hosted the show alongside Kenny Florian and Michael Bisping. Tate pulled no punches when answering the charge from White, who didn't seem to give her much of a chance to thwart Rousey's run on her third attempt.
"I disagree, and I don't care what anybody thinks. I don't plan on losing to Ronda a third time. It's sort of offensive that he's just counting me out," Tate said about White. "It bothers me a little bit, but he thinks what he thinks, and I don't know what to say to that."
From a business perspective, Tate said she understands why Holm is getting the shot against Rousey, but not when it comes at the expense of a title shot she was promised just weeks earlier.
"I understand. They want to get the undefeated vs. undefeated. I'm not going to say from a business perspective it doesn't make sense. But the problem I have with it is the UFC promised me a title fight leading up to my last fight," Tate said. "It was a title-eliminator fight, and after winning the fight I was told I'd get the title shot. But then not finding out from the company and waking up to text messages.
"That was a little harder than them calling me up and telling me this is what just makes sense at the time."
Despite those two previous losses to Rousey in 2012 and 2013, Tate has knocked off a string of top-10 fighters while Holm has yet to tackle a noteworthy opponent in her two UFC fights.
Tate said she isn't sure why she's facing the elite contenders in the bantamweight division while Rousey's last opponent, Bethe Correia, and her next opponent in Holm haven't even picked up a win over a ranked fighter yet. Of course, the argument could be made that Rousey has already knocked off everybody ranked just below her, but Tate said she's done enough to warrant a third fight after her recent win streak.
"That's part of my frustration. They want me to keep fighting top-five people and she's fighting lower-ranked fighters," Tate said.
As far as what comes next in her own career, Tate isn't too eager to do anything after the disappointing news trickled down about missing out on the Rousey fight. She was rumored for a bout against top-five fighter Amanda Nunes in December, but all talks of that fight have fizzled out in recent days.
Tate doesn't exactly sound like she's in a hurry to do anyone a favor by taking a fight right now while she's still shaking off the ashes of her title shot that just went up in smoke.
"The news of not fighting Ronda was kind of shocking. I'm kind of in a state of limbo right now. I don't know where I'm going to go," Tate said. "I'm not exactly sure what my next move is. I'm in this awkward stage. I'm in limbo."