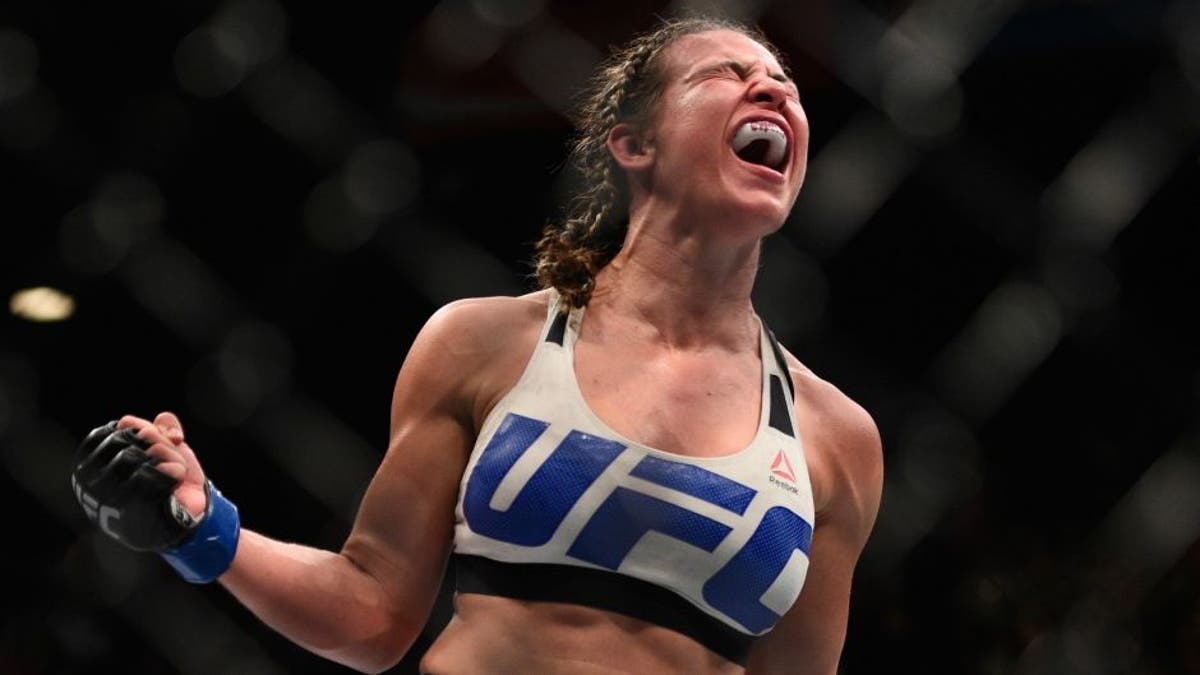 Miesha Tate is laser focused on her upcoming title defense against Amanda Nunes at UFC 200, but that doesn't mean she's lost sight of a third fight with Ronda Rousey later in the year.
Tate has fallen to Rousey on two previous occasions. But now that she has the belt she knows that a third fight is not only a possibility, it's a certainty if she can get past Nunes on July 9.
"That's important. I need that. That has to happen. That's very important to me," Tate told Joe Rogan recently about a trilogy with Rousey. "I have Amanda ahead of me; I do not want to look past her because I think that would be a huge mistake. It's not one that I want to make as a veteran in my career, that would be a rookie move.
"But in the back of my mind, of course, the fight with Ronda is something I want to happen. I don't know when it will happen. It could be anticipated for November, I've heard that be tossed around in the UFC that she's planning on coming back and it might be Madison Square Garden. That would be great."
Tate has heard the naysayers tell her that she'll never beat Rousey. But that's why she doesn't tend to listen to anyone else's opinions about herself -- or her ability to win a fight.
In Tate's opinion, this is the best time she could possibly face Rousey: She's on an upswing in her career after finally conquering the UFC women's bantamweight title with a submission win over Holly Holm in March.
Meanwhile, Rousey has been virtually absent from the UFC since she got knocked out by Holm last November and there's been no clear sign that she's even contemplating her return to action at this point six months later.
"She's going through what I've already been through time and time again. I have built myself back up from that point time and time again. I know that I can do that. I'm confident in that. Here I am, I'm standing the strongest that I've ever stood and I've already been through that," Tate said.
I am at the best point in my career and Ronda is at the worst. -- Miesha Tate
"I've already been head kicked and knocked out. That happened to me before. I pulled myself up by my bootstraps and put one foot in front of the other and worked and got my Strikeforce world title. I lost it to Ronda. Picked myself back up, put one foot in front of the other, got back on the horse and fought, fought, fought, fought. Fought Ronda again in the UFC and was devastated, crushed, thought my world was just falling down around me, coming to an end. Got back up, put one foot in front of the other, got back on the horse and now here I am the world champion."
Tate knows she has the ability to fall down and get back up, but she wonders if Rousey has that same ability built into her DNA?
For years, Rousey said that she wanted to retire undefeated and go down as one of the greatest fighters of all time. But at least half of that goal is no longer attainable after losing to Holm at UFC 193.
Or is this loss really going to be the moment that breaks Rousey completely to the point where she's never the same again?
"The question mark is how is Ronda going to come back from this? I know what I've been hearing from Ronda in the media and the press, she's been a little quiet lately but before, it wasn't what I would have expected to hear from someone who wants to come back and someone who is really, really a fighter at the core," Tate said.
Tate explained further, comparing Rousey's relative silence since her loss to her own demeanor after every fight she's ever lost during her career.
Even in the most downtrodden moments, Tate says she's always wanted to climb right back into the cage to wash the taste of defeat out of her mouth. It's a lingering feeling that doesn't go away until she fights again and gets back into the win column.
Tate just isn't sure she's heard or seen anything close to that desire from Rousey after her loss in November. And it doesn't help much that she seems completely resigned to sitting out most of 2016 rather than coming back to avenge her defeat.
"She's a great athlete, she's a great fighter, she's accomplished a lot of things, credit where credit's due. I give her a round of applause for everything she's been able to accomplish but I'll tell you what, every time I've ever lost in my career I went bananas to get back in there, ballistic, like right now," Tate said. "Just like Holly -- they're like, 'When do you want to fight again?' -- (she said) 'Tomorrow against Miesha, now.' That's what you want to hear when someone has a devastating loss. They want to get back in there right now and face that person right now or someone else, just get that loss off their record, right now.
"When I lost to Cat Zingano, I freaked out. I called Sean Shelby and was like get me another fight right now. He's like, 'Your nose isn't even healed,' I'm like, 'I don't give a (expletive).' I want to fight, I want it now, I want to know when it's coming like right now or I'm going to freak out."
Rousey, on the other hand, has barely been seen in public since she lost to Holm, and she's made no statement regarding her timeline for return. Rousey's original reason for sitting out was because of a pair of films she was expected to film during the first half of 2016. But both of those projects have been delayed and/or shelved at this point.
Is she hungry enough? That's the question. -- Miesha Tate
Tate knows a lot of what she's saying will be viewed as trash talk, but the women's bantamweight champion honestly believes everything she's talked about regarding Rousey is real.
Then again, Tate doesn't really care what Rousey thinks about her, because the bridge between the two of them got burned to cinders a long time ago.
Tate knows no matter how many times she fights Rousey, or how far apart their careers may stretch one day, they will probably never get along, and she's completely OK with that. Because every feeling they share is mutual.
"She has her way of thinking and she is going to hate me until the day she dies," Tate said. "I'm OK with that. That's fine. We don't need to be friends. That's OK. I'm perfectly fine with that."