Miesha Tate explains why Bethe Correia isn't on the same level as Holly Holm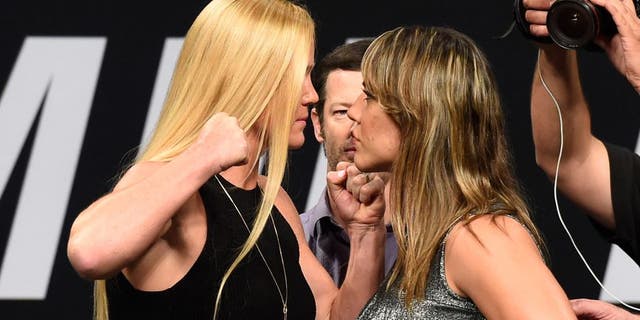 NEWYou can now listen to Fox News articles!
Holly Holm will enter her third straight main event fight in the UFC this weekend when she faces former title contender Bethe Correia in Singapore.
It's an incredibly important moment for Holm, who has dropped three straight fights following her stunning second round knockout against Ronda Rousey in 2015.
Despite her recent struggles, former champion and past opponent Miesha Tate defends Holm's record against the scrutiny she's received for losing three in a row following such a historic win over Rousey.
"Holly Holm, if you look at her fights, Ronda [Rousey] and everybody since have been really, really tough fights," Tate explained when speaking to FOX Sports. "We have Ronda Rousey, who was undefeated and nobody could even touch her and Holly Holm was the first person to not only finish Ronda but make her lose an entire round. Then she fought me, who became a world champion and then she fought Valentina Shevchenko, who almost beat Amanda Nunes, she won that third round and it was close. She's really evolved in her game and improved her grappling, she just submitted Julianna Pena and now she's fighting for the world title. Then Germaine de Randamie, who stylistically presents all the problems you could say someone could present for Holly, being "a better striker" that was a scary fight for Holly.
"What I'm saying is it shows where Holly's mentality is at. She's always willing to fight the best in the world and she's had a tough run at it. People will say 'oh she's lost her last three fights' but to who? All very, very tough, credible people."
Tate says that Holm's recent woes should come to an end this weekend because she just doesn't put Correia in the same category as the other three fighters who have handed her losses over the past year and a half.
Brandon Magnus/Zuffa LLC/Zuffa LLC via Getty Images
Correia was undefeated until she ran into Rousey, who needed just 34-seconds to hand her a defeat when they met in 2015, and since that time she's amassed a 1-1-1 record with two of those fights ending with a split decision. While Correia has amassed four wins in the UFC she hasn't defeated a top 10 opponent yet.
When examining Correia as an opponent, Tate just doesn't think the Brazilian has what it takes to really challenge Holm and this should be the perfect opportunity to see the former champion shine against an ideal matchup for her.
"Bethe Correia doesn't have good wrestling, she doesn't have long reach, she's not very clean or calculated with her striking," Tate said. "She's more of a brawler.
"This is a fight that Holly takes all day if you ask me."