Midweek Stock Report: Brewers' Hill continues to rake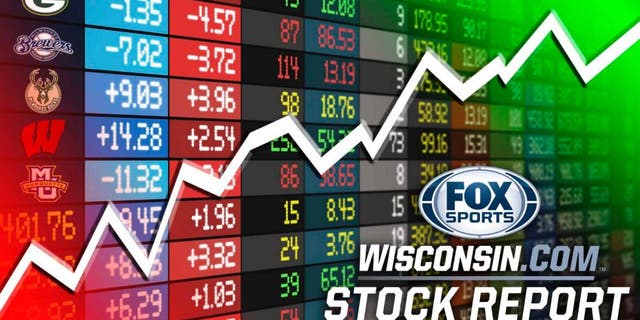 NEWYou can now listen to Fox News articles!
Every Wednesday, FOX Sports Wisconsin takes a look at which athletes' stock is trending up and whose is trending down.
In other words, who is making a meteoric rise, and who is quickly plummeting.
With that in mind, let's "take stock" of the current sports scene in Wisconsin, shall we?
Aaron Hill, Brewers third baseman
When April came to a close Hill was has a slash line of 169/208/246, certainly causing some to question if his career was hitting the end of the line. No one is asking that any more. After Tuesday's game. Hill is now hitting 284/360/424 with eight home runs and he's coming of yet another solid week at the plate. Last week he played six games and batted .364 with a .545 slugging percentage while scoring four runs and driving in five.
Junior Guerra, Brewers starting pitcher
The incredible season continues for Milwaukee's 31-year-old rookie. Guerra had two starts last week -- at home against the Dodgers and at Washington -- and he his pitching lines were very similar. Against Los Angeles: 8 IP, 2 H, 0 R, 2 BB, 7 K. Against the Nationals: 7 1/3 IP, 2 H, 0 R, 2 BB, 7 K. Now that's consistency, which isn't surprising since Guerra has turned into the Brewers' most consistent starter over the last two months.
NBA free agents
Let's just all group them here together. While nothing becomes official until July 7, we've all seen the money being doled out to free agents, whether it is to incoming Milwaukee Bucks or someone like former Wisconsin Badgers forward Jon Leuer (4 years, $42 million from Pistons) it is a good year for those who are looking for new contracts. We don't begrudge the players. While it can be shocking to see and is silly money, it is silly money the owners can obviously afford to spend (they make silly money, too).
Chase Anderson, Brewers starting pitcher
It has been a roller-coaster ride for the Brewers' fifth starter this season. He began the year with two good starts, then struggled in his next four outings only to pitch well over a six-start span from May 11-June 8. Which brings us to now, the latest in the downhill trajectory. Anderson has not fared well in each of his last four starts, including one this past Sunday when he allowed three runs in 4 1/3 innings. Anderson has reached the fifth inning just once in those four starts and made it into the sixth in only two of his last eight starts.
O.J. Mayo, former NBA guard
'Nuff said.
Dave Heller is the author of the upcoming book Ken Williams: A Slugger in Ruth's Shadow as well as Facing Ted Williams Players From the Golden Age of Baseball Recall the Greatest Hitter Who Ever Lived and As Good As It Got: The 1944 St. Louis Browns