Mickey Gall reveals gruesome cut he suffered just before his fight with CM Punk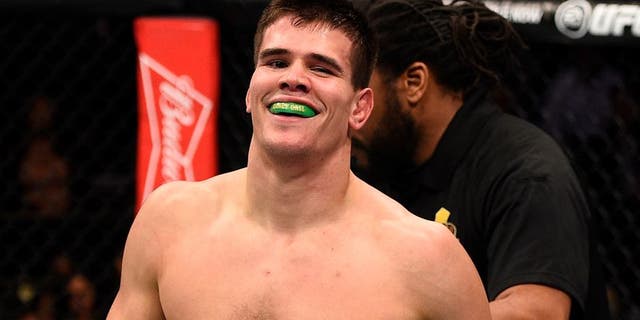 When Mickey Gall planted CM Punk on the mat after a single punch thrown during their fight at UFC 203 this past September, it seemed like a smart strategy considering the fight ended with a submission just two minutes later.
Gall needed little time to make short work of Punk as the former WWE superstar made his UFC debut, but afterwards the young New Jersey native lamented about how he really wanted to show off his striking rather than finish with a submission.
It appears Gall had a very good reason not to stand and trade with Punk, no matter how out gunned the former professional wrestler may have been on the feet.
Gall posted on Instagram on Wednesday showing off a gruesome cut he suffered three weeks prior to the fight with Punk that required a whopping 21 stitches.
According to Gall, his doctor's advice was not to compete for six months, which was probably a bit excessive, but clearly he had no intention of stepping out of the fight with Punk or even his next bout when he submitted Sage Northcutt this past December.
"I end up fighting twice in four months. Get grazed in second fight. 8 more stitches. Two superstars whooped one born. Worth it," Gall wrote on Instagram.
It's hard to argue with his logic considering the meteoric rise Gall made from the attention he received by submitting Punk and then doing the same thing to Northcutt a few months later.
As of now, Gall hasn't booked his next fight in the UFC but judging by his record thus far he'll be gunning for another big name when he returns to the Octagon.