Mickey Gall: 'I might ruin MMA' for CM Punk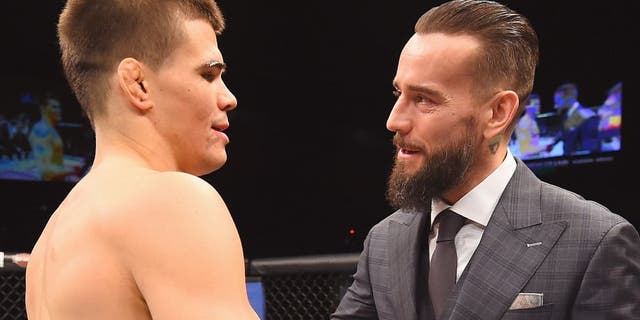 NEWYou can now listen to Fox News articles!
Mickey Gall had a lot riding on his UFC debut but no one could have predicted that he would earn the first shot at former WWE superstar CM Punk by choking out his opponent in just 45 seconds.
Gall made short work of Mike Jackson at UFC Fight Night in Las Vegas less than two weeks ago and immediately after his victory, Punk made his way into the Octagon to greet the man who he'll face in his mixed martial arts debut.
The two fighters didn't share many words other than a congratulations from the former professional wrestler, but Gall knew that earning a knockdown and then a submission in less than a minute probably sent a rather powerful message.
"When I hit that guy in the face and he went down, I'm sure his stomach dropped," Gall told FOX Sports. "Realistically, he should be a little scared, a little worried. I was able to show what I do. I think he's a brave dude, he came in and was calm, cool and collected. He shook my hand and congratulated me, cool and cordial.
"I'm sure he worried a little bit, but that's good. He should be."
Prior to his own UFC debut, Gall made a bold prediction that if he landed the fight with Punk that he would put a hurting on the MMA novice and dispatch him in less than a round.
While there's still a ton of unknowns when it comes to Punk and what he'll actually bring to the Octagon when they meet, Gall is still confident the result stays the same.
"Same prediction. I still finish him in the first round," Gall said. "It will probably be a little longer than this one. I'd be surprised if it was less than 45 seconds, but it's possible. But I'm going to say a first-round finish."
While Gall says he's been dreaming of fighting in the UFC since he started practicing MMA eight years ago, he knows Punk can't say the same thing. Competing inside the Octagon is definitely a fantasy come true for Punk, but he didn't toil away in the gym for years just trying to get a shot in the big show.
So that's part of the reason why no one knows what to expect out of Punk if his first fight doesn't actually go well.
Of course, Punk is predicting a victory but even then there's no telling if he would just walk away while knowing that he seemingly did the impossible and won a UFC fight in his first time out of the gate or if a loss would send him packing for good.
Obviously, Gall believes he'll hand Punk a loss when they meet and that might be all she wrote for the 37-year old first timer.
"I remember hearing it was like an eight-fight deal or something," Gall said about Punk's UFC contract. "I definitely think after he fights me, it's going to sour him to the experience. I definitely think he'll probably take more appreciation of (professional) wrestling. Honestly the truth is I really respect him for coming in there and accepting this against me. I think it's not going to fare very well for him. He might be done. I'm sure there's more money to be made off him so I wouldn't be surprised. It would be his call and that could be caused by what I'm going to do to him.
"I have respect for him but I might ruin MMA for him. I'm going to be violent and do something devastating to him."
As excited as Gall was to celebrate in the moment, he received some unfortunate news just a few days later as Punk was forced to undergo back surgery for a herniated disc that put him back on the shelf for several weeks.
There is no exact timeline for his return, but Punk isn't expected to be out of action for more than about four to six weeks, which means the fight with Gall could potentially get pushed back later in the summer.
Whether it happens now or later, in a month or in six months, Gall says the result is going to be the same. There's nothing Punk will add to his arsenal that will make Gall think this will play out any other way than with his hand raised in the end.
"No matter what he does between now and then, it's not going to make a difference," Gall said. "What I'm doing, it's hard wired in me. I've been doing it since I was 16, that's how I grew up. There's nothing he could do between now and then that's going to change what's going to happen."