Michigan State's Watts-Jackson has hip surgery after scoring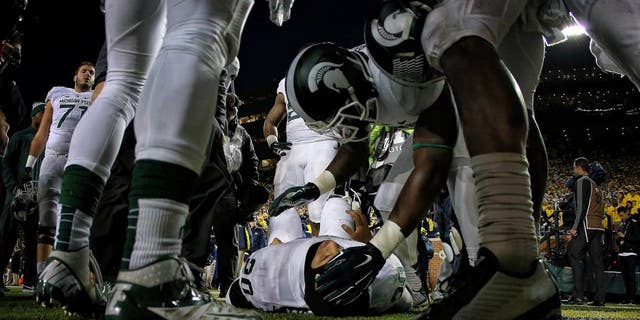 NEWYou can now listen to Fox News articles!
Michigan State defensive back Jalen Watts-Jackson has had hip surgery a day after scoring the winning touchdown on the final play against Michigan.
Watts-Jackson was in the right place to catch a floating football that Wolverines punter Blake O'Neill fumbled Saturday. He returned it 38 yards to lift the Spartans to a startling 27-23 victory.
He didn't have much chance to celebrate. The redshirt freshman appeared to land hard on his left hip after he was tackled into the end zone by Michigan tight end Jake Butt.
Joyous teammates then jumped on Watts-Jackson as he lay on a maize "M" in the end zone. He was carted off the field and hospitalized.