Michigan linebacker Bolden hit with controversial targeting call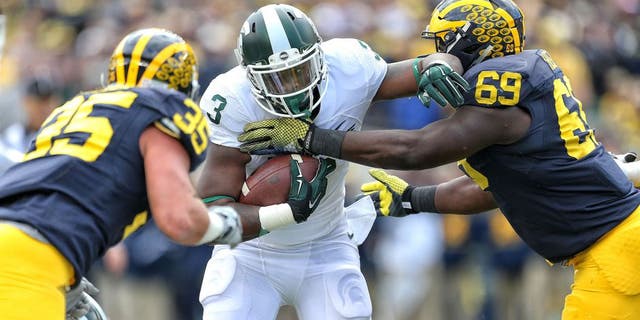 NEWYou can now listen to Fox News articles!
No. 7 Michigan State broke Michigan's shutout streak Saturday with a touchdown run by L.J. Scott in the second quarter that came shortly after the 12th-ranked Wolverines lost a key piece of their defense.
Starting linebacker Joe Bolden was ejected for what was ruled targeting after he made contact with Michigan State quarterback Connor Cook.
The play was reviewed (per policy) and upheld, a decision that was not popular at Michigan Stadium.
Bolden took a chance to fire up the home crowd on his way off the field.
Bolden entered the day as Michigan's leading tackler on the season and had two stops before he was ejected.
By the looks of things, Ohio State star running back Ezekiel Elliott may not have agreed with the call, either.
The Wolverines had shut out their previous three opponents but gave up 27 points to Michigan State -- including the final six on a shocking fumbled punt snap that was returned for the game-winning touchdown as time expired.