Michelle Waterson reveals who she wants to fight next in the UFC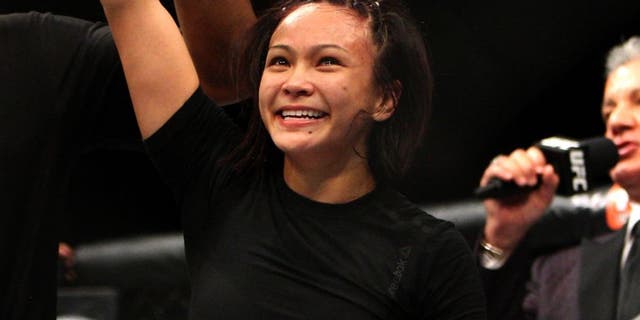 NEWYou can now listen to Fox News articles!
BROOKLYN -- Fresh off a win over Paige VanZant in December, Michelle Waterson has suddenly become one of the fastest rising stars in the women's strawweight division and she was even attached to a rumored matchup with champion Joanna Jedrzejczyk just recently.
While that bout was never actually offered to either fighter, the fact that Waterson was even mentioned in title contention can only be a good thing as she looks to fast forward her career in 2017 with any number of potentially huge matchups on the horizon.
Waterson has heard her name being called by several fighters requesting to face her but now she's voicing her opinion on who she hopes to see standing across the Octagon from her next.
"I'm thinking either Rose (Namajunas) or Karolina (Kowalkiewicz)," Waterson told FOX Sports on Wednesday. "Because Karolina just fought and the fight between her and Rose was a split decision so both of those ladies I think would be a great jumping off point for me."
Namajunas has been asking to fight Waterson ever since she defeated VanZant while Kowalkiewicz has remained rather quiet since losing a unanimous decision to Jedrzejczyk last November.
One name that Waterson didn't mention was No. 1 ranked strawweight contender Claudia Gadelha, who has definitely given Jedrzejczyk her toughest matchup to date in the UFC.
According to Waterson, Gadelha has been making appearances at the Jackson-Winkeljohn facility in New Mexico, which is the gym she's called home for years.
"Claudia has actually been cross training at our gym to me she's not competition right now," Waterson explained. "She's a teammate and we're using each other to get better."
Waterson seems to be in a great position to take advantage of her last win over VanZant as she moves forward into 2017.
She just recently inked a contract with an agent at William Morris Endeavor, who also happen to be the owners of the UFC, to help her with endeavors outside of the Octagon like potential acting roles or endorsements.
Waterson is even starting to get adjusted to life as a top ranked fighter where other competitors in the UFC are calling her name out on a regular basis.
While Waterson has been a stalwart of women's mixed martial arts for years, she's finally getting some much deserved recognition and she's embracing every, single opportunity.
"I've never had that before, or not to this extent. Everybody's been calling my name after I fought Paige (VanZant)," Waterson said. "First it was (Jessica) Andrade after her opponent fell through and the Rose tweeted me out and then Felice (Herrig) this last weekend calling me out so it's kind of nice having people call my name out.
"I guess that's how you know that you're making a statement and that's what we want right? We want to bring some attention to the strawweight division and hopefully that's what my fight did."