Michael McDonald offers sage advice to youth movement in the UFC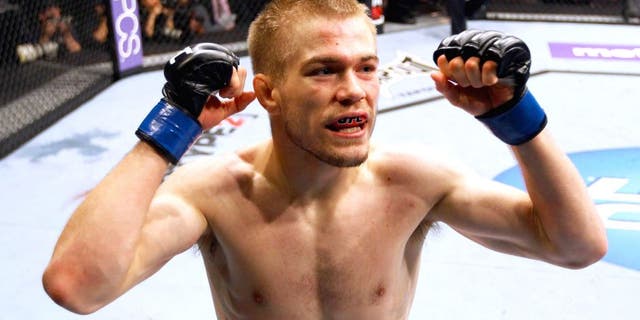 NEWYou can now listen to Fox News articles!
There is currently a youth movement happening in the UFC. But long before Sage Northcutt and Paige VanZant were the flavors of the month, Michael McDonald was rising up the ranks at bantamweight as a teenager who had his first professional fight at 16.
McDonald's fighting career actually stretches back even further when he had his first amateur bouts as a 14-year-old. But now, a decade later, he's the steely veteran approaching his 20th professional fight when he faces Masanori Kanehara at UFC 195.
The fight this weekend follows two years away from the sport for McDonald, who took an extended break to deal with a lingering hand injury that's plagued him for quite some time. While it wasn't exactly planned that way, McDonald's two-year absence also gave him a chance to recharge his batteries after an eight-year stretch left him feeling a little burned out.
"I didn't take a break because of it, but it was wearing me down. I've been fighting very, very frequently since I was 14 years old and that's when I started fighting amateur. I started fighting professionally at 16. That was eight years of constant fighting real early," McDonald told FOX Sports on Wednesday. "That was a tough thing."
The hand injury that forced McDonald to take time off was actually something that's given him problems for years. But he was always willing to fight through the pain for the sake of not taking time off or ending up in surgery.
Eventually, McDonald realized he was losing an uphill battle because he would do so much damage to his hand in training that by the time he stepped into the Octagon he was doing so at a fraction of his full potential.
Once he finally took time off to repair the hand, McDonald found out just how bad things had gotten, and he was forced to endure a pair of surgeries before he finally got back to full strength again.
"With the hand injury, we originally started out with therapy and did a couple of months of therapy and it didn't get any better. So we had to go in and do a surgery, let that heal completely, then therapy, then got back into training and figured out that it didn't go right," McDonald explained. "So we went back, another surgery, another therapy and making sure it's good and after that I had six to eight months of training. It was more like nine because I thought I was going to fight in October, and I wanted to make sure I was prepared because I hadn't been as active. It's been a very training-filled year."
As much as McDonald needed a break both for his mind and body, once he got back into the gym full time he realized how much he missed it.
"Absolutely, I missed it. That's why I came back," McDonald said. "During all these surgeries and everything I was as involved as I could be with my church. I did as much woodworking as I could, but for a couple of months I was doing woodworking full time while I was waiting for my hand to heal. I love to do it, I love it, but I know it's not what I'm meant to be doing right now.
"I know God has created me with a destiny, and this is part of that destiny. I knew I had to come back, and it was always with the purpose of coming back."
After everything he's gone through in the past two years, McDonald has grown up a lot and now as he approaches his fight this weekend he has the experiences -- both good and bad -- of a real MMA veteran.
He looks at the sport through a different set of lenses than he used to. That also allows him the perspective to see other young fighters going through the rigors of growing up while also fighting at the highest levels of competition.
McDonald has some advice for the younger generation of fighters who are now following in his footsteps and debuting in the UFC while still in their teenage years.
"If you have the skills, don't fall in love with winning. Don't fall in love with money. Don't fall in love with the fame. Don't fall in love with the crowd cheering your name. You have to fall in love with training and pushing yourself to become better you each day. It's not even about getting the title," McDonald explained.
"That's the No. 1 thing you'll hear from people -- I want to get that title. But it's not about the title, it's really not. It doesn't matter whether you're the greatest champion right now, there's going to come a day where you don't have that anymore. If that's your motivation you're going to have a problem when it's done."
McDonald's advice might come with a smattering of self-reflection as well because it took nearly having his career taken away to realize how much he loved doing what he does for a living.
He's seen the highest highs and the lowest lows and now McDonald appreciates the career path he's chosen more than any other time in his 10-year career.
"Fall in love with the sport, enjoy what you do every day, fall in love with the training. Hard times are going to come no matter how successful you are," McDonald said. "If you don't have that love for the sport, you're going to drop out."
McDonald headlines the UFC 195 prelims airing live on FS1 starting Saturday night at 8pm E.T.